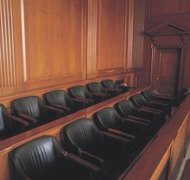 Georgia divorce litigants have the right to have their divorce tried by a jury when the request for jury trial is made in writing and filed with the court before the case is called for trial. Generally a demand for jury trial is timely when included in the divorce petition or in the defendant spouse's answer, or in a counter-petition by the defendant. Jury trials are only provided in cases where responsive pleadings are filed, meaning the case must be contested, as there is no need for a jury to decide a case where there is no controversy between the parties.
Step 1
Draft your divorce pleading and include a demand for jury trial. Pleadings begin a case and include the petition, the answer, and sometimes a counter-petition in which the defendant can challenge the terms requested by the spouse who initiated the divorce. A demand for jury trial may be included in any of these initial documents. The demand may also be included in any filing submitted to the court before the case is called for trial, which means prior to the end of all preliminary hearings.
Step 2
Review your pleading before submission to make sure your demand for jury trial is stated clearly so the court understands exactly what you are asking for. Include a jury trial demand in the style, or title, of your pleading. For example, "Complaint for Divorce and Demand for Jury Trial," or "Answer to Complaint for Divorce and Demand for Jury Trial." The last paragraph of the pleading should include the actual demand in language such as, "Plaintiff (or Defendant) respectfully demands a trial by jury on all issues that are by right triable by jury."
Step 3
File your pleading, including the demand for jury trial, with the court. Serve the pleading on your spouse just as you would if the pleading did not contain a jury trial demand. Your jury trial demand will be granted if it is made before the case is called for trial, because a judge's denial of a timely demand for jury trial is reversible error, meaning the trial outcome can be reversed on appeal.
Step 4
Make a jury demand in writing after the case is called for trial if you feel such a demand has become necessary. The judge does not have to grant the demand after the case has been called for trial, but he has the discretion to allow it even though it is untimely.
Tips & Warnings
While a demand for jury trial must be made in writing, it may be withdrawn either in writing or orally at hearing.

Juries can only decide financial matters in Georgia divorce cases. Custody issues are decided by the judge.

A jury trial requires more preparation by your attorney, more lead time for scheduling by the court, and more time to actually wade through from start to finish once it starts. All this extra time equates to higher legal fees and a longer wait time before the divorce is final. Consider these issues when deciding whether to demand a jury trial in your Georgia divorce.
Photo Credits
Comstock/Comstock/Getty Images