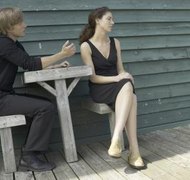 The no-nonsense attitude of Massachusetts residents is reflected in the commonwealth's divorce laws. Couples are encouraged to participate in the legal process and residents with simple cases may file their papers on the Internet using an online legal document service. Knowing the basics about Massachusetts divorce laws can help you understand what to expect in your divorce and help reduce the stress associated with it.
Residency Requirements
Like any state, Massachusetts has its own specific requirements for filing for divorce. You can file in Massachusetts if you are currently a Massachusetts resident and if the cause for your divorce happened in the state. If the cause for your divorce happened in another state, you must live in Massachusetts for at least one year before you can file for divorce. Within the state, the law restricts the venue where you can file for divorce. You must file in the county where you and your spouse last lived together, if one of you still lives in that county. If you both moved to different counties after separating, you may file in the county where either spouse lives now.
No-Fault Law
Massachusetts is a "no-fault" jurisdiction, where you don't have to allege misconduct by your spouse to file for divorce. You can merely allege an irretrievable breakdown of your marriage as the cause for your divorce. However, you may also cite grounds such as adultery, desertion or substance abuse.
Property Division
Most Massachusetts divorces are uncontested, meaning that the divorcing couple agrees about how their property should be divided between them. Couples may reach agreement on their own, come to an agreement during mediation or negotiate an agreement through their attorneys. In a contested divorce, the couple cannot reach an agreement, so a judge has to decide how to divide their property. Massachusetts is an "equitable distribution" jurisdiction, so the judge doesn't have to divide the property equally. She can decide on a property division based on what is fair, or equitable, taking all circumstances into consideration.
Custody and Parenting Time
Massachusetts courts can use discretion and flexibility in establishing custody arrangements. The commonwealth provides parenting classes for divorcing parents to help them understand the impact of divorce on their children and help establish best practices for shared parenting. Massachusetts law distinguishes between legal custody -- a parent's right and responsibility to make major decisions about the child's well-being -- and physical custody, the parent with whom the child resides. In a contested case, the court can order sole or shared legal custody and sole or shared physical custody to either or both parents. Shared physical custody means the child resides with both parents, with time allocated in such a way that both parents enjoy frequent and continued contact with the child. A judge bases her decision on the happiness and welfare of the child and the effect of the child's living conditions on his physical, mental, moral and emotional health. In most cases, even after divorce, both parents still have access to the child's school and health records regardless of which parent has custody.
Support
Massachusetts courts use uniform child support guidelines to calculate child support. The formula allows for factors such as child care expenses, health insurance premiums and uninsured medical expenses for the child. The court assumes that the child lives with one parent and spends about one-third of the time with the other parent. The court can adjust the child support guidelines if a family's parenting time agreement warrants an adjustment. A Massachusetts judge may also award alimony based on the length of the marriage, the parties' conduct during the marriage and other factors such as the parties' ages, occupations, earning capacities and contributions to the marriage before the separation.