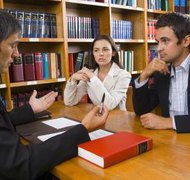 Unlike criminal cases, where you may be entitled to a court-appointed attorney if you have no money, in divorce cases, no such option exists in most jurisdictions. If you have no money or are on a fixed income, you may still be able to obtain free representation in your divorce case through a private attorney.
Legal Aid
Most counties or regions have legal aid offices, staffed with licensed attorneys who specialize in helping persons with little or no income. To qualify for legal aid services, you will usually need to show proof of income, such as an income tax return, a disability application or your last bank statement. To locate the legal aid office in your area, contact the clerk of your local court or your state bar association.
Law Clinics
Many law schools offer free legal clinics that give experienced law students—under the supervision of their licensed professors—the opportunity to work client cases, explains the University of Alabama School of Law. The requirements to participate in these programs will vary among law schools, but generally, law clinics handling family law matters such as divorce cases will provide representation at no cost to persons without any money. Like legal aid, these clinics may require you to show proof of income.
State Bar Association
Private practice attorneys volunteer their services to low-income clients as part of some state's licensing requirements. To locate an attorney who may be willing to handle your case for free, contact your state's bar association and let them know that you have limited financial resources and need a divorce attorney. They can provide you with references for lawyers in your area who may be willing to handle your case at little or no cost.
Self-Representation
Instead of hiring an attorney, some individuals choose to handle their own divorce case. If you choose to represent yourself, you do not need to do this alone, however. For example, you may wish to purchase a "do-it-yourself" package offered by a legal document preparation service. Licensed and experienced attorneys prepare these packages and provide you with detailed instructions on how to file your paperwork with the court. This can be a cost-effective option if you have a simple divorce case—for example, if you do not have children and do not own any property.
Private Social Groups
In addition to public bar associations and general nonprofit legal groups, some private organizations such as Catholic Social Services and other religious ministries can provide you with low-cost or free legal resources. Likewise, if you are a victim of domestic abuse or an immigrant, shelters or safe haven organizations in your community may be able to provide you with a divorce attorney. You can locate these organizations through your local courthouse, women's shelter or social service agency.