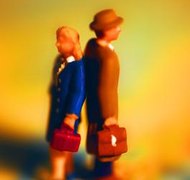 Divorce law varies by state, but the general procedures are similar throughout the country. Should you decide to proceed on your own, referred to as acting "pro se," both state forms and information on divorce procedures are commonly available from local family law attorneys or online legal document providers. A simple divorce, one in which both parties agree, can often be handled without an attorney. However, if one party contests the divorce or property or custody disputes exist, you should consider consulting an attorney.
Petition and Answer
The party initiating the divorce files a Petition for dissolution of marriage while the other party files an Answer, in which each of the allegations made in the Petition are either admitted or denied. File the Petition with the proper court, usually the court that handles family or domestic relations matters, in the jurisdiction where one or both parties are domiciled, i.e. have maintained a primary residence for the six consecutive months immediately preceding the filing. The Respondent, or non-initiating party, must file the Answer within the statutorily-prescribed time frame, usually 20 days.
Parenting Plan
Most jurisdictions require spouses to submit a parenting plan if there are any children of the marriage still under the age of majority. This form details primary residence, time sharing, holiday visitation schedules and support for each child.
Mediation
Parties to a contested divorce are often ordered by the court to mediate their contested issues in an effort to avoid the time and expense of trial. If the parties come to an agreement, trial is avoided and the parties proceed with a joint Consent Order for Dissolution. The parties jointly draw up the consent order and present it to the court to be signed by the judge.
Trial of Contested Divorce
Trial follows a failed mediation. Trial preparation includes issuing mutual interrogatories and conducting any necessary depositions. Subpoena any necessary witnesses and schedule the pre-trial conference with the court, at which a trial date is set. Appear for trial and litigate all contested issues.
Finalize an Uncontested Divorce
If proceeding with a consent order, contact the court and ask for a date to present the order to the judge. Make sure the order is signed by both parties and notarized. Only one party needs to appear before the judge to present the order for signature. Once the judge signs the order, the divorce is final.