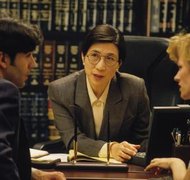 Divorcing couples can tie up their case in court for many months, arguing about every detail. Meanwhile, their divorce attorneys are charging the couple thousands of dollars in fees, and the parties lose control over how their divorce proceeds. Couples looking for alternatives to this unpleasant scenario might consider mediation. It's often a cheaper, quicker and easier way to get divorced.
The Mediation Process
Mediation is a guided discussion in which a neutral, third-party mediator helps the parties reach agreement on the terms of their split. It is typically a completely voluntary process, meaning either party can end the mediation at any time. Even couples who are ordered to mediation by a court are rarely forced to reach agreement. Couples may meet with the mediator for several sessions, working toward agreement on topics like child custody, alimony and property division. Mediators do not issue decisions like a judge or arbitrator does; they let the parties make their own decisions.
Mediators and Lawyers, Different Roles
Mediators may be lawyers, but they do not function in that role when they are acting as mediators. Lawyers generally advocate for one party or the other, taking sides, while mediators must remain neutral. However, lawyers can be involved in the mediation process, even sitting at the mediation table with their clients. They help their clients come up with settlement ideas, tell them about their options and file the appropriate paperwork with the court, so their clients can actually get divorced.
Mediation Not Always Appropriate
Mediation can be helpful when resolving a wide variety of divorce-related issues, including how to split marital assets; how to manage parenting concerns; and how much money a spouse must pay in support. However, successful mediation requires that both spouses fully participate in the process, including speaking up during discussions and behaving appropriately. Couples with a history of violence or substance abuse, or those with serious disagreements, may find it difficult to participate in mediation and may instead benefit by having lawyers represent them in court.
Completing the Divorce
Spouses who reach agreement with the help of a mediator must complete their case in court. Mediators cannot file divorce paperwork with the courts, so their role is generally limited to helping the parties reach an agreement. The mediator can draft a mediation agreement for the spouses to sign, but this alone does not allow the spouses to divorce. They must hire an attorney or complete the necessary paperwork themselves and file it with their court system to obtain a legal dissolution of their marriage. However, judges generally accept the mediation agreement or its terms as the terms of the divorce agreement, adopting them into the couple's divorce decree.