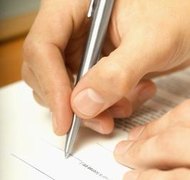 If your spouse objects to a divorce and has stated that he will not sign any papers, it is still possible to end the marriage. In such instances, the spouse requesting the divorce will first need to prepare the paperwork and attempt to engage her spouse in the proceedings. Although a divorce with only one signer can be more time consuming than a divorce in which both spouses participate, it will still have the same effect — dissolution of the marriage.
First Steps
Even if your spouse has stated that she will not sign any divorce papers, it is generally necessary to proceed as you would in other divorce cases. Specifically, start by preparing a petition for divorce, financial affidavits and other divorce papers required by your state. After you have prepared your divorce papers, you will need to file them with the court and serve your spouse with the summons, petition and supplemental paperwork.
Service of Process
Typical ways of serving divorce papers include hand delivery by a private process server or sheriff's deputy. It is generally possible to serve an unwilling party, provided the process server can find him and get physically close enough to hand over the petition or drop the papers in front of him, explains the California Judicial Branch. Once your spouse is served divorce papers by a method allowed under your state's laws, he has a certain amount of time to respond. If he does not respond within the state law's time frame, you can typically ask the court for a default divorce judgment. This means that after a set waiting period, the judge will enter a divorce decree granting the requests you made in your initial divorce petition.
Alternative Methods of Service
If you do not know your spouse's whereabouts, or if he is attempting to avoid service by making himself unavailable, you may have to use alternative means of service to notify him of the divorce proceedings. In some cases, you may be able to effect service by publication. The court must approve this method of service, which allows the person filing for divorce to publish notice of the divorce proceedings in a newspaper. If your spouse is missing, you will need to make reasonable efforts to locate him before the court will let you serve by publication. For example, the court may require you to contact your spouse's former employers, family and friends to try to ascertain his whereabouts.
Proceeding With a Missing Spouse
After you have completed your search for your spouse, you will generally need to prepare an affidavit describing those efforts and listing any results you found. The exact requirements for how long you must publish notice to your spouse depends on state law and court rules. Once you have completed the requirements for service by publication and filed paperwork indicating you have met all the necessary alternative service guidelines, the court will likely grant you a divorce by default. However, couples should keep in mind that in some jurisdictions, such as Colorado, the court cannot grant a divorce by default if the party requesting a divorce is asking for child support or division of property.
Challenging Divorce by Default
If the nonresponsive spouse wants to participate in the divorce proceedings after the court enters a default judgment, he can file a motion with the court asking the judge to vacate or nullify the final divorce judgment. However, the nonparticipating spouse will need to show good cause as to why he did not respond to the initial divorce complaint. For example, if the spouse had a serious illness that prevented him from participating in the proceedings, the judge may vacate the judgment.
Vacating a Default Order
Even if the nonresponsive spouse shows good cause for not participating in the initial proceedings, he will still need to establish why the spouse who submitted the initial divorce petition should not receive her requested terms of divorce. If a judge vacates a default divorce judgment and allows the nonresponsive spouse to file his paperwork, the party who filed the initial divorce petition can generally appeal this decision by filing a written request with the court.