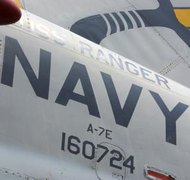 If your wife is in the Navy, your ability to reach agreement with her may play a role in the time it takes to obtain a divorce. The military divorce process is governed by both state law and the federal Servicemembers Civil Relief Act. The act provides certain discretionary and automatic waiting periods upon the request of a currently deployed naval officer. These orders are known as "stays," and although your spouse cannot prevent a divorce from going through, a court may pause a highly contested divorce until her participation is possible.
Overview of SCRA
In an effort to protect active military personnel from being sued without their knowledge or participation, Congress passed the Servicemember's Civil Relief Act, or SCRA. The act has been held to apply in the divorce context and allows an active navy member to petition the court to pause a proceeding for at least 90 days in cases of active deployment. Further, after this time has elapsed, the servicemember may request an additional stay if she can demonstrate that the military service is materially affecting her ability to appear. Allowing additional stays in a divorce is at the judge's discretion, and state courts vary in their willingness to grant them.
Residency
Obtaining a divorce from a spouse who is on active deployment in the Navy starts with selecting a court in which to file the action. This decision is determined by where you or your spouse can establish residency. States vary on the specific requirements, but typically continuously living in a location or being stationed in the area for a period qualifies. In Florida, for example, you may file for divorce if you or your spouse lived or were stationed in the state for six months leading up to filing.
Paperwork
Once you can establish residency, the next step is to complete the paperwork necessary to start the action. State law varies on what is involved in filing for a divorce, but it typically involves completing a complaint for divorce. The complaint specifies the grounds for divorce which, depending on the state, can be either fault-based or no-fault. Typical fault grounds are adultery, extreme cruelty and desertion. No-fault divorce is generally based on a period of separation or irreconcilable differences.
Service
After the paperwork has been filed, it must be served on your spouse. If your spouse agrees to the divorce, this requirement can generally be waived in writing. If not, you will need to have someone personally deliver the papers to her. This must be done according to both state law and the SCRA, which can often be achieved through another service member or adult civilian who has contact with your wife. You may also request that the court appoint someone for this purpose. If your spouse is currently in a foreign county or at sea, certain international laws come into play. For example, if your spouse is stationed in a country that is subject to the Hague Convention Treaty, complications can arise regarding service. This may require mailing the documents to that country's central authority designated for service to ensure compliance with foreign laws, which will often result in compliance at the state level as well.
Stays
After your spouse has been served, a judge will review any requests to stay the proceeding. Upon the expiration of the 90-day automatic stay, further requests will be at the discretion of the judge and will depend greatly on the complexity of the remaining issues. For example, divorces based on fault grounds require evidence to prove that the alleged event or behavior occurred, and a court might be reluctant to make an order without hearing what your spouse has to say. Other issues that might become contested are property division, alimony, child support and custody.
Defenses
The court has an interest in ensuring that a divorce is not unnecessarily delayed. For that reason, if you can convince a judge that your spouse's presence is not necessary, a stay may be denied. An example might be a case involving your spouse's participation by telephone or through the filing of an affidavit. The affidavit is a sworn statement that can provide her side of the story for the judge to review and can often serve the same purpose as actual presence. In addition, you may request that your spouse demonstrate how the service materially affects her ability to participate, and you will have an opportunity to contest her claims. A stay may be denied if she fails to establish a link between service duties and participation, or does not specify a time frame for when she can be cleared to participate.