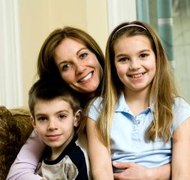 When you go through a divorce, you often lose your support system. You may drift away from your married friends and feel lost, lonely or depressed. You might need legal help if your ex-husband isn't living up to the divorce agreement. If your income is low, you'll need to find inexpensive medical care for your kids and yourself. In addition to basic needs, such as child care and health coverage, you can find emotional support in Platte County from groups of divorced moms who are coping with similar situations.
Legal Help
If you divorced in Missouri, you have a custody and visitation schedule that has been specifically tailored to your particular circumstances. You may be getting child support and spousal support as well. As Kansas City family law attorney Mark Wortman writes on his website, courts in Missouri strongly favor shared custody arrangements, so you and your ex-husband are likely to share equally in decisions about raising your kids. However, situations change and may be able to convince a court to modify the divorce agreement. You must show a "substantial and continuing" change in your financial situation to modify support agreements. If you seek to modify custody or visitation agreements, you must show that changing circumstances make the current agreement unreasonable and that the modification you seek is in the best interest of your children.
Low Cost Legal Help
The Legal Services Corp. office in Kansas City provides a range of legal services for lower-income mothers. As the website Single Mom Financial Help states, 75 percent of Legal Services clients nationwide are women. Attorneys and paralegals in the Platte County office can assist you in enforcing or modifying custody orders, obtaining restraining orders against your ex-husband or anyone else who may be harassing you, fighting foreclosure or eviction notices or helping obtain government benefits for which you qualify.
Government Help
The Missouri Department of Social Services runs a number of programs for mothers, many of whom are divorced. Most of the programs are restricted to low-income residents. The programs include low-cost day care services, which enhance the ability of single mothers to work while their kids are playing in a safe environment. DSS also is an avenue for legal services -- it can help enforce a support order and collect money from your ex-husband by withholding his wages or confiscating tax refunds if he is not making his required child support payments. Platte County has two DSS offices in Kansas City that can help you enforce child support agreements and sign you up for programs such as child care. In addition, there is a third DDS office that offers programs for low-income mothers.
Social Support
For emotional and social support, you may want to contact KCMommies. It's part of a nationwide group, The Mommies Network, that provides social support and friendship for divorced mothers. Moms from all walks of life can share parenting tips and suggestions. There are kid-friendly events where both moms and kids can make new friends. And there are Moms Nights Out, too, a chance for mothers to escape from the little ones for a few hours for a movie or dinner.