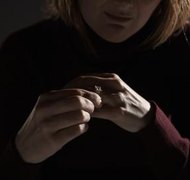 If you are a Washington resident, you can get a divorce in your home state. It generally does not matter where your spouse lives or whether he wants to end the marriage. Once you fill out and sign the dissolution forms, the only trick is to get them served appropriately on your spouse.
Dissolution Forms
The first step toward a Washington State divorce is acquiring the required forms, including a summons, a dissolution petition, and proof of service. You can get these from the court website or from an online legal document provider, which can fill them out and file them for you.
Filing Forms
If you fill out your own paperwork, you need to make several copies of the divorce forms and take them to the courthouse. After you submit the forms and pay the filing fee, the court clerk returns file-stamped copies to you. One copy should go directly into your own file, while you must serve another copy on your spouse.
Service of Process
"Serving process" is a legal term describing the way you have to let someone know that he is a party to a lawsuit. To serve Washington court papers, you must have an adult hand the papers to your spouse. The person serving the papers must be over 18-years-old and not a party to the action. Alternatively, the server can leave the papers at your spouse's home with an adult who lives with him. You can also send the papers by certified mail, return receipt requested, but this only works if your spouse accepts the papers and signs the receipt.
Service in Puerto Rico
Puerto Rico is a U.S. territory, so you can serve your spouse in Puerto Rico in the same manner as in any other state. While it might be expensive to fly a friend to Puerto Rico to hand the papers to your spouse, it might be an option. Alternatively, you can find a Puerto Rican process serving firm that will do the service for you for a fee. Whoever serves the papers must complete and sign a court document called a proof of service. In it, the server swears that she served the papers on your spouse and sets out the details of the service. You must also file a court document titled, Declaration Regarding Personal Service Outside the State of Washington, explaining why it was necessary to serve your spouse out of state.
Proceeding to Judgment
Once the service issue is complete, you can proceed with your divorce in the same manner as if your spouse was living in Washington. If your spouse answers the petition, you can work to reach a settlement agreement or proceed to discovery and, if necessary, trial. If your spouse does not answer, you complete the documents to request the entry of a default judgment.