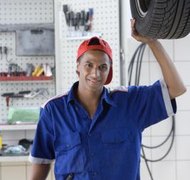 If you have your own business that you own by yourself, and you've never taken steps to incorporate it or create some other legal structure for it, you have a sole proprietorship. In Louisiana and elsewhere, this means that your business's debts and liabilities are your personal responsibility, while its income and assets are your personal property; there's no dividing line. When you die and your estate enters probate, your business assets and debts don't receive much in the way of special consideration.
Louisiana Probate
The person who manages and distributes your estate after you pass is called a succession representative in Louisiana rather than an executor or personal representative as in other states. Other than this somewhat unique term, however, the individual's job is much the same as it is elsewhere. She must collect your assets, give notice to your creditors, pay them and pay your taxes, then distribute what remains of your estate to the beneficiaries you name in your will. If you run a sole proprietorship, your business equipment and accounts are part of your estate's assets -- and your estate must pay its outstanding debts.
Closing the Business
You and your sole proprietorship are one and the same, so it can't exist without you. Your succession representative can't sell your business to raise money for your estate, although she can sell property you used for business purposes with permission from the Louisiana court. For example, if you have a landscaping business, you probably own equipment, tools, mowers and vehicles. If your estate is short on cash to pay both your personal and business debts, the succession representative can ask the probate court judge for permission to liquidate this property.
Running the Business after Your Death
Depending on the nature of your business, it may not be able to come to a screeching halt when you pass away, even though it can't continue to function without you. Someone will have to tie up the loose ends. This might be relatively easy, so your succession representative can handle it. For example, she might only have to secure your tools and property and notify your clients that you're no longer available to do upcoming scheduled work. However, if your sole proprietorship is more complicated, such as if it's a consulting or other professional firm, or a retail operation, the court may appoint someone with the task of shutting it down. The business probably represents money to your estate and those funds require preservation, so the judge may assign someone with particular skills to collect accounts receivable and wind the business down in such a way that the business doesn't lose money or incur any additional debts.
Community Property Law
Louisiana is a community property state, which can complicate matters if you began your business or invested cash in it after you married. Under community property law, if you die without a will, your spouse owns half your business assets. She also has something Louisiana law calls "usufruct," which is the right to use your half of the community property for the rest of her life or until she remarries, provided you leave any direct descendants such as children or grandchildren. If you don't leave any descendants, she receives your half of the community property outright. As a usufructuary, she has no right to sell your share or encumber it with liens, but your succession representative can't sell it either. Your succession representative can't liquidate your spouse's share of community property to satisfy your business's debts. You can override some of these terms by leaving a will, but usufruct is a complicated legal concept so you might want to consult with an attorney to make sure you get it right. You can also avoid probate headaches for your succession representative by forming a separate legal entity for your business, such as a corporation. You can usually structure the business in such a way to include a succession plan that will determine what happens with the business when you die.