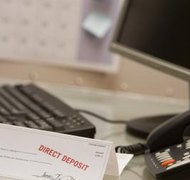 It is not always possible to exclude a paycheck from a Chapter 7 bankruptcy. While some debtors may qualify to have their entire paycheck excluded from Chapter 7, everyone going through bankruptcy will need to review the applicable state and federal laws to determine how much of their paycheck, if any, may be protected from seizure in bankruptcy.
Bankruptcy Exemptions
When filing for bankruptcy, a debtor can often choose to file for exemptions under either federal or state law. A debtor can review all applicable federal exemptions and compare them to the exemptions available under state law. Wages are not specifically exempted under federal law, but most states offer some degree of paycheck protection, although federal law has other beneficial exemptions. In some states, debtors are not permitted to choose between state and federal exemptions, but are required to use state exemptions only. However, state exemptions are often more generous.
Excluding Paychecks
State bankruptcy laws vary, and so does the degree to which paychecks are excluded from Chapter 7 filings. Several states exempt 75 percent of a paycheck from seizure in bankruptcy, while others exempt up to a certain amount per month or establish a yearly amount based on how much is earned. Some states exclude the full paycheck, but this is not common. States often publish their bankruptcy laws online; thus, an Internet search for a particular state's bankruptcy exemptions is likely to yield the necessary information.
Exceptions
Even states that do not offer full exclusion of paychecks from Chapter 7 proceedings may make exceptions for low-income wage earners. When working through a Chapter 7, the debtor can present income history to the bankruptcy court and petition for an exception that excludes paychecks in their entirety. Exceptions vary across states but typically depend on how much the wage earner makes and the size of the family that depends on the income. Money earned prior to the bankruptcy filing but not yet paid is typically not exempted, unless the debtor qualifies for an exception based on income.
Chapter 13 Plans
Rather than seize a portion of a debtor's paycheck to pay creditors, Chapter 13 bankruptcy plans dedicate the debtor's entire disposable income to repayment. In order to establish disposable income, the debtor subtracts "reasonably necessary expenses" from his monthly wage total. Expenses are evaluated and judged necessary based on the debtor's income, type of expense and state bankruptcy laws. After the debtor's budgetary needs are calculated, any money not dedicated to reasonable expenses must be paid to creditors.