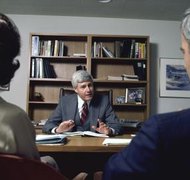 Arbitration is a form of dispute resolution that serves as a viable alternative to traditional divorce litigation. In divorce arbitration both spouses mutually agree to hire a neutral third party, known as the divorce arbitrator, to hear the case and render a binding decision. Often, spouses choose divorce arbitration over divorce litigation because arbitration is a private form of dispute resolution that occurs outside of the courts and thus out of the public eye. Additionally, arbitration can be quicker, less adversarial and cheaper than divorce litigation.
Step 1
Decide prior to hiring an arbitrator how you and your spouse will split up the cost of the arbitrator.
Step 2
Find an arbitrator that you and your spouse can agree upon. Your arbitrator should be familiar with divorce laws in your state and have no conflicts of interest with you or your spouse that would compromise his ability to be a neutral third-party. If you and your spouse cannot agree on an arbitrator, in some states both spouses can submit a list of arbitrators from which a judge chooses.
Step 3
Work out with your spouse which issues the arbitrator will consider during the arbitration process. If you can narrow it down to just a few specific issues, the process will typically move along faster and therefore be less expensive.
Step 4
Prepare an arbitration brief that summarizes the issues the arbitrator will consider during the arbitration process. Your spouse also has the option to submit her own arbitration brief to the arbitrator.
Step 5
Attend your arbitration hearing at the time, date and place specified by your arbitrator. At the hearing, both parties are entitled to be heard, present evidence material to the disputed issues and to cross-examine witnesses. Both parties have the right to be represented by an attorney at the arbitration proceeding.
Step 6
Obtain a copy of the arbitration settlement or award signed by the arbitrator. Submit a copy of the arbitratrion settlement or award to the clerk of the court where you filed for divorce for confirmation.
Tips & Warnings
While an arbitrator may decide issues within a divorce case, only a court can grant a divorce.

For a list of potential arbitrators in your area, contact the American Arbitration Association, The Association for Conflict Resolution or JAMS, Inc.
Photo Credits
Jupiterimages/Photos.com/Getty Images