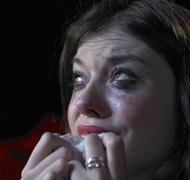 Domestic violence can compound an already complex situation when you decide to divorce your abuser. When you also fear for your safety and that of your children, you must take precautions to keep yourself and your family safe. However, you're not alone. All states have programs and laws in place to assist you.
Step 1
Leave the marital home before you file for divorce. Get to a safe place first so your husband can't retaliate. Do it when your husband is at work and you can be reasonably sure he won't return home unexpectedly. If you don't have family or friends who can help you and call the police in the event of a surprise altercation, call your local domestic violence shelter or the National Domestic Abuse Hotline at 800-799-SAFE. They can usually help you move out and give you a secure place to stay while you prepare to move forward. They can usually also help you find an attorney.
Step 2
Get a new cell phone, one that does not include your husband's name on the account. You'll need it to be able to stay in touch with your attorney and those who are helping you. If your husband has access to your cell account, he can identify with whom you're speaking and possibly track you down. Some states have mail services for victims of domestic violence. You can sign up and use that address as your official mailing address, so you don't risk your husband learning your current whereabouts. If such a service is available in your area, the domestic violence shelter can give you the contact information.
Step 3
Go to your county courthouse or local police department and request a restraining order against your husband. Do this after you've moved to a safe place and have taken steps to conceal your whereabouts, or simultaneously when you leave. If your husband is likely to become enraged when he's served with the restraining order or your divorce papers, you don't want him to be able to find you and retaliate.
Step 4
File a request with the court for temporary spousal support, child support and custody while your divorce is in progress. In most states, you can do this at the same time you file your divorce complaint or petition. Restraining orders also sometimes include provisions for child support and custody.
Tips & Warnings
Take your children with you when you leave the house. You can legally do this to protect them from the threat of potential violence. Later, when a judge decides custody, it could work against you if you leave your children behind with a dangerous man.

When you're trying to divorce a man who is a threat to you, it's best to use an attorney and not try to represent yourself. All communications with your husband can go through him, and he can deal with the logistics of filing for divorce so you don't have to cope with legal issues on top of everything else. Your husband might make threats about various aspects of your life, such as threatening to take your children, if you divorce him; an attorney can assure you that most of these threats are empty. If you can't afford a lawyer, your local domestic violence shelter can put you in touch with legal aid so you don't have to handle your divorce on your own. Legal aid services often handle domestic violence divorce cases free of charge.
Photo Credits
Michael Blann/Digital Vision/Getty Images