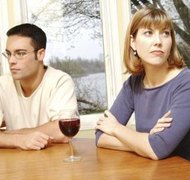 In Ohio, the word "divorce" applies only to contested matters. If you and your spouse already know how you're going to provide for your children and divide up your debts and property, your matter is a "dissolution." In either case, you must have resided in the state for at least six months to file, and you file in the county where you've lived for the last three months.
Divorce
If your spouse is contesting your matter, Ohio requires you to file a complaint for divorce. You're not required to file on a fault ground, although the state offers eight. These include desertion for one year -- which Ohio calls "willful absence" -- adultery, cruelty and habitual drunkenness. You can also file on a no-fault ground of either a year's separation or incompatibility. However, the incompatibility ground requires that your spouse not contest the fact; she can only contest the terms of your divorce. File your completed complaint with your county's common pleas court in the domestic relations division.
Dissolution
If you and your spouse have reached an agreement, you would file a joint petition for dissolution, also with the domestic relations division of your county's common pleas court. The petition differs from a complaint in that both you and your spouse sign it, and you do not have to file on a ground. The petition is a very short one-page form, but Ohio requires you to attach a copy of your marital settlement agreement when you file it. The agreement should address every possible issue between you, including a parenting plan and child support provisions. If it does not, the court probably won't award you a dissolution, and you'll have to file a motion to convert your dissolution to a divorce instead.
Required Documents
In addition to your complaint or petition, and depending on which you file, Ohio courts require a few extra documents so you can officially begin your proceedings. In both cases, you'll need to submit a case designation sheet detailing the basic facts of your matter. If you've filed a complaint, and parenting time is at issue, you must also file a parenting proceeding affidavit. If you would like child support payable through Ohio's child support enforcement services, you must complete and submit an IV-D application. Forms for these documents, as well as complaints and petitions, are usually available through the court clerk. Some are also available on the state's website, as well as county websites.
Service of Process
For your divorce to proceed, you must achieve service of process over your spouse. This ensures that both you and your spouse are aware you've filed for divorce. If you filed a joint petition with a settlement agreement, each of you can sign a waiver of service and attach it to your petition at the time you file. Otherwise, the court will serve your spouse for you, usually by certified mail. When you file your complaint, tell the clerk you require this and complete one more form, called "Instructions for Service." This will indicate the most reliable mailing address for your spouse.