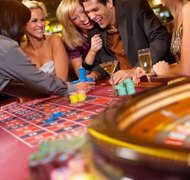 A limited liability company, or LLC, is a form of business organization that offers limited liability and is not taxed as a separate entity by the IRS. Nevada's limited liability company statute went into effect in 1991. In 2005, Nevada authorized the Series LLC, which erects limited liability barriers between members of the same LLC.
Step 1
Choose a name for your LLC. The name must be unique among business entities in Nevada and include a designation indicating its limited liability status, such as "LLC" or "Ltd."
Step 2
Select a registered agent and a registered office. The registered agent will receive all official communications from the Nevada government and must be a resident of Nevada. The registered office must be located in Nevada and must have a street address.
Step 3
Select at least one manager for your LLC. A manager does not have to be a member of the LLC. You may select as many managers as you like, and it is acceptable for all members to be listed as managers.
Step 4
Complete and sign the Articles of Organization form. You must provide the names of the registered agent and the managers, along with certain other information. This document is only one page long.
Step 5
Complete and sign the Initial List of Managers or Members/Business License Application. This document requires you to list the names and addresses of the LLC managers.
Step 6
Prepare filing fees of $75, as of 2010, for the Articles of Organization, $125 for the List of Managers or Members, and $200 for the Business License Application. Checks should be made out to the Secretary of State. You may file your application online through the website of the Nevada Secretary of State, or mail it to Secretary of State, 204 Carson St., Suite 1, Carson City, NV 89701-4299.
Things Needed
Articles of Organization form
Initial List of Managers or Members/Business License Application
Filing fee
Tips & Warnings
If you choose to establish a Series LLC, you must indicate the identities of a group of members whose liability will be attributed to neither the LLC nor to LLC members outside the group. You must also either state the rights, powers and duties of the members of the series, or state that an LLC operating agreement will list these rights, powers and duties.
Photo Credits
Jupiterimages/Photos.com/Getty Images