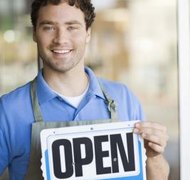 An LLC can be created in New York State by filing a document called Articles of Organization with the Department of State, Division of Corporations in Albany. You will also have to announce the creation of your business in two newspapers. As of December 2010, the minimum cost for filing an LLC in New York state is $250.
Step 1
Search the online database for the availability of your name (see Resources). The state will reject any application to register a business name if you LLC's name not distinguishable from other names already on file.
Step 2
Reserve a name for a limited time by submitting an Application for Reservation of Name, Form DOS-1233 (see Resources). Send the completed form along with the filing fee of $20 -- as of 2010 -- to the NYS Department of State, Division of Corporations, One Commerce Plaza, 99 Washington Ave., Albany, NY 12231.
Step 3
Complete and file Articles of Organization. A fillable form complying with New York State law is available online (see Resources). The completed form can be mailed to the Division of Corporations in Albany or submitted electronically. As of 2010, the filing fee is $200.
Step 4
Announce the creation of your new business. To comply with state law, you must place an announcement within 120 days of the effective date of the Articles of Organization in two newspapers designated by the county clerk where the business office is located. A certificate of publication must subsequently be filed with the Division of Corporations along with a $50 filing fee. The certificate is available online (see Resources).
Step 5
Use the Online Permit Assistance and Licensing website to determine if you also need to register for business licenses in the state or to collect sales tax (see Resources).
Tips & Warnings
You can also apply for a federal EIN, which will be necessary if your business pays employees.
Photo Credits
Jupiterimages/Brand X Pictures/Getty Images