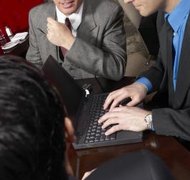 A limited liability company, or LLC, is a hybrid between a corporation and a partnership that offers some of the advantages of both business vehicles. An LLC is created under state law and registered with the state secretary of state, or similar regulatory agency. In addition, an LLC must register with tax authorities and obtain the appropriate business licenses and permits.
Formation
To legally create an LLC, you must choose your state of registration and file articles of organization. You don't have to do business in your state of registration -- all you need is a registered agent with an in-state street address to receive official correspondence on behalf of the LLC. Form templates for the articles of organization are commonly found on the official website of the state secretary of state and are typically a page or so long. Provide the LLC name, names of its members, name of its registered agent, legal business address, and capital contributions of each member on the form. You will also need to pay a filing fee that varies by state.
Tax Registration
Either the LLC itself or its members will be taxed at the state, local and federal levels. Each state imposes its own tax registration procedures, and separate registration may be required for sales, income and employment taxes. Some states require employers to pay for temporary disability insurance. For details, consult local tax authorities wherever your LLC plans to do business. Your LLC will likely need to apply for an Employer Identification Number (EIN) from the Internal Revenue Service, even if it does not plan to hire employees. The IRS will tax your LLC as a partnership, unless you elect to be taxed as a corporation by filing Form 8832 wit the IRS.
Business Licenses and Permits
Your LLC cannot operate legally until it has obtained the appropriate licenses and permits. Required licenses and permits vary according to the nature of your business and are issued at the local, state and federal level. Certain industries, such as agriculture and aviation, are heavily regulated by the federal government. State and local governments have their own priorities, as well. Remember that your LLC must obtain business licenses and permits anywhere it does business, including (but not limited) to its state of formation. You must register with the state secretary of state as a "foreign" company to do business in any state, other than your state of formation.
Operating Agreement
Your state may not require you to create an operating agreement. Nevertheless, unless you are a one-member LLC, it may become a practical necessity if a dispute arises. An operating agreement is similar to a partnership agreement and functions as a company constitution. It should cover voting rights, profit and loss allocation, entry and exit of members, share transfers, management and dissolution. Without an operating agreement, state default rules apply. Consult state law before finalizing an LLC operating agreement because it may place restrictions on the content of that agreement. You don't need to file the agreement with any governmental authority. Simply store it with the rest of your business records.