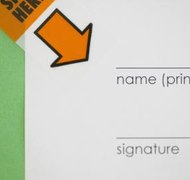 DBA is short for "doing business as." Sole proprietors and even larger companies may elect to operate under DBAs or fictitious names for a variety of reasons. DBA registration forms are filed with the County Clerk or Secretary of State for the state in which a business is located. Because the filing procedure is different in every area, the requirements for filling out DBA forms vary, although most forms require similar information and can be filled out in a matter of minutes.
Step 1
Obtain a DBA registration form for your jurisdiction. You should be able to obtain this form from your County Clerk, or Secretary of State in states that handle DBA filings at the state level rather than through the county government.
Step 2
Fill in the required information on the form. Typically, this will include your name, address, city, state and ZIP code. Confirm that all information is entered correctly.
Step 3
Write your DBA or fictitious name on the form. Generally, you cannot use a DBA that is already being used in your state. Perform a thorough name check through your county or state website, or consider having an online legal document preparation and filing service help you with this task.
Step 4
Write the address of your primary business location in the designated space on the form. Some jurisdictions do not allow the use of post office box addresses, so you should be prepared to provide a physical address.
Step 5
Specify your business entity type on the form. The choices typically include sole proprietor, partnership, LLC or corporation.
Step 6
Provide any other information requested on the DBA form. In some areas, you'll be asked to provide a brief statement describing your company's products or services. Some states require you to disclose any previous fictitious names for which you have previously applied.
Step 7
Sign and date the form. Your state may require that you do this in the presence of a notary.
Tips & Warnings
Some jurisdictions do not require companies to register DBAs.

Many counties and states require that a DBA applicant advertise their intent to use a fictitious name for a certain number of weeks in a local newspaper. You may have to complete this procedure before you can file your DBA application.

If you have questions about how to fill out or file your DBA form or want to simplify the filing process in terms of time and effort, consider seeking help from an online legal document preparation service or local attorney.
Photo Credits
NA/AbleStock.com/Getty Images