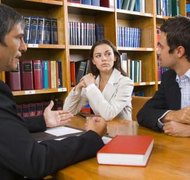 People are often under the misconception that there is only one kind of divorce. However, some states recognize two kinds of divorce. The better-known type of divorce is referred to as an absolute divorce, or a complete and final divorce. The other type of divorce is called a divorce from bed and board, or a limited divorce, which separates the spouses financially, while the spouses are still legally married.
Something Like Bed and Board Divorce
Florida recognizes only absolute divorces and specifically rules out a divorce from bed and board. Further, there is no such thing as a formal legal separation in Florida. But there is something like a divorce from bed and board, or a legal separation, in Florida. If one spouse moves out of the marital residence without filing for divorce, the spouse left behind can file a petition for support, not associated with dissolution of marriage. A court can then order temporary support for the spouse left behind. Such an order allows the spouses time, for example, to try to work on their marriage. It also provides marital benefits, such as allowing both spouses to remain on a group health insurance plan.