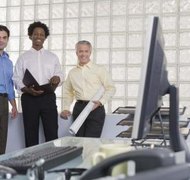 The limited liability company (LLC) is a popular form of business organization. While many entrepreneurs gravitate toward the LLC organization because of its flexibility in tax treatment and relative simplicity in terms of operation compared with other corporate forms, the most frequent reason business owners choose to organize as an LLC is the opportunity to receive limited liability for acts committed by other participants in the business. This limited liability becomes endangered, however, when members do not follow their state's rules on setting up the LLC. Fortunately, LLC organization is relatively simple in all jurisdictions.
Step 1
Choose an appropriate name for the new enterprise. While some entrepreneurs name their LLC by combining the names or initials of members, others choose a moniker that captures the essence of the company's business. Prior to proceeding, members should check to make sure that another business is not already using the name. Giving an LLC the same name as another business already in operation elsewhere could expose the new enterprise to expensive trademark litigation.
Step 2
Draft the LLC's articles of organization. The articles contain critical information about the LLC such as the names of its members, the names of managers, the address of the company and the designation of a registered agent for service of process. The articles will also include a description of the business in which the LLC intends to engage, which is generally a broad statement such as "to engage in any lawful purpose." This document must be filed with the secretary or state or other similar official in the LLC's state of organization. Failure to file proper articles of organization could result in the voiding of the LLC.
Step 3
Draft an operating agreement for the LLC. This document contains the members' agreement as to important considerations such as capital contributions, the duties of each member, procedures for adding and removing members, procedures for the selection of managers, and the process for disposition of company assets upon dissolution. While some states may not require an LLC to have an operating agreement, it is prudent for members to have one. The presence of an operating agreement and the members' observation of its terms constitute an important line of defense against an attempt to pierce the corporate veil in the event of a lawsuit.
Step 4
Obtain all necessary licenses and business permits from the state and municipality in which the LLC will be doing business. Failure to obtain a privilege license from the state department of revenue may result in sanctions that impact the corporate existence of the LLC and therefore the limited liability of its members. Other consequences may result from the failure to obtain a business license or permit from the town in which the LLC will be operating.