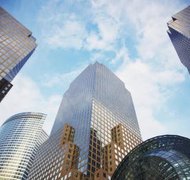 The corporate form of organization is a time-honored tradition that grants companies their own legal identity while combining advantages from both corporate and private business. The LLC form is relatively new to the business world; although similar forms have been employed around the world since 1892, the first true American LLC was formed in 1977. The formation process for corporations and LLCs is similar, but there are several distinct differences to consider.
Forming an LLC
Step 1
Draft and file articles of organization for the company. Contact the Secretary of State to find out if your state provides ready-made templates for articles of organization online. Articles of organization set forth the company name, purpose and address, and include contact information for a registered agent who will act as a point of contact between the company and the state.
Step 2
Draft and file an operating agreement. The operating agreement goes much more in-depth than the articles of organization. Operating agreements serve as guidelines for members, setting forth the relative interests in the business and the rights and responsibilities of members, as well as the capital contributions of each member and the distribution of profits among the members.
Step 3
Publish a public notice of intent to open an LLC if it is required in your state. Contact your secretary of state's office to find out if this is a requirement in your state. If it is, ask a representative from the Secretary of State's office to provide you with a list of approved publications in which you can list your notice.
Forming a Corporation
Step 1
Draft and file articles of incorporation. Articles of incorporation are similar to LLCs' articles of organization, with one major difference. In addition to listing the corporation's name, purpose, address and registered agent's contact information, corporate articles of incorporation include a list of the board of directors. Ask your Secretary of State's office if a template for the articles is available.
Step 2
Draw up corporate bylaws. Bylaws act as official guidelines for how the board of directors runs. Provisions for meetings and voting processes, as well as provisions for adding or eliminating directors, are all set forth in the bylaws.
Step 3
Appoint a board of directors. Select board members who can bring valuable experience, contacts and resources to the table. Find initial directors who have worked in your industry for years, and who can clearly communicate exactly how they intend to help guide the corporation to early-stage and long-term success. Be aware, however, that stockholders will have the power to vote in new board members in the future.
Step 4
Sell your first round of stock to investors. Initial public offerings can bring in large amounts of debt-free capital to help corporations grow in the early stages. Contact an investment bank to begin the IPO process if you plan to offer shares to the public. You may or may not require an investment banker if you plan to offer a private, limited stock sale.