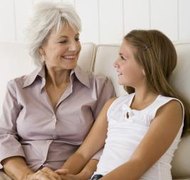 One particularly stressful aspect of divorce is that you and your soon-to-be ex must divide all of the material possessions that you share. Big ticket items, such as homes and cars, pose a challenge to many divorcing couples – especially if one of you wants to sell the asset while the other wants to keep it. In some situations, however, deciding what happens to large assets, such as the family home, isn't your decision to make. Your grandmother decides who gets to live in her home.
The Family Home
When a divorcing couple owns a home they purchased together, both are legally entitled to a portion of the property's value. Thus, the couple must compromise over how to distribute the property in a divorce. If you and your spouse live in a house that someone else owns, however, property distribution is not an issue. Because your grandmother owns the home, neither you nor your former spouse are legally entitled to it. The property belonged to your grandmother before the divorce and remains hers after the divorce.
Moving Out
Couples generally do not continue living under the same roof after a divorce. One of you will likely move out of the home. If you and your ex-spouse owned the home, you would decide amongst yourselves which of you would remain in the family home and which of you would seek housing elsewhere. In this situation, your grandmother is the homeowner and, as such, she is the one who gets to decide which of you can continue living in the home after the divorce and which of you must move out. The exception to this rule occurs if you and your spouse signed a lease to live in the home. A lease is a legally binding contract between you, as the renter, and your grandmother, as the landlord. If neither you nor your spouse has violated the lease, your grandmother does not have legal grounds to force either of you to move out – even after a divorce.
Homeowner's Divorce
You may have to move out even if you and your spouse aren't the ones getting a divorce. If your grandmother and her husband share ownership of the home and subsequently divorce, their divorce decree dictates if your grandmother must sell the home or move and turn full ownership over to her former spouse. If your grandmother sells the home in her divorce, you and your spouse must typically move out. If she or her former husband retains ownership of the home, the owner has the final say in whether you can continue to reside there or whether you must make alternate living arrangements.
Considerations
Living in your grandmother's home does not give either you or your spouse a legal claim to the property – regardless of whether or not you are divorcing. If you are attached to the home, you can attempt to buy the property from your grandmother or request that she leave you the home in her will. If your grandmother transfers ownership of the property to you prior to your divorce, however, she is no longer the homeowner – you are. Because you acquired the home during your marriage it constitutes marital property and your spouse will likely have a legal claim to a portion of the home's value in the divorce.