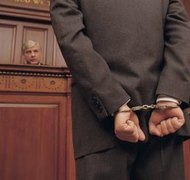 Bankruptcy law isn't forgiving of misrepresentations and omissions. When you file for bankruptcy, you must fill out innumerable forms, all of which are designed to get a clear, accurate picture of your financial situation. If you have a lawsuit pending or are expecting to receive a settlement or judgment, you must disclose it.
Obligation to Disclose
If your right to file a lawsuit existed at the time you declared bankruptcy, its proceeds are part of your bankruptcy estate – even if you haven't filed the lawsuit yet. You must tell the trustee about your claim. If you filed for Chapter 7 protection, only the trustee can agree to a settlement – you don't have the right to negotiate on your own behalf. If you filed for Chapter 13, you can negotiate, but the bankruptcy court must approve any settlement you agree to. Some lawsuit proceeds are exempt from bankruptcy by law, however, including those resulting from workers' compensation claims. If you have doubts about the nature of your lawsuit, speak with an attorney before you fail to mention it to the trustee.
Penalties for Nondisclosure
If you fail to mention your lawsuit to the bankruptcy trustee and he finds out about it, you can be charged with bankruptcy fraud. This is a crime punishable by up to five years in jail and a fine of as much as $250,000. You could also receive up to three years' probation.