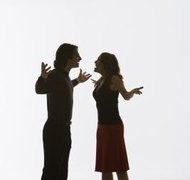 If you and your spouse attend mediation as part of your divorce, you have the opportunity to reach agreement about your divorce's terms. This can allow you to shorten the divorce process and lessen the expense of getting divorced. However, mediators cannot grant divorces so you must follow up your mediation with some court paperwork.
Marital Settlement Agreement
When you and your spouse reach agreement about the terms of your divorce as part of mediation, your mediator will likely include those terms in a document that summarizes your agreement. If your mediator is a lawyer, he may compile the agreed-upon terms into a marital settlement agreement. If your mediator is not a lawyer, it may be up to you to put your mediation agreement into a formal marital settlement agreement acceptable to a court. An online legal document provider can help with this process.
Filing Court Paperwork
Your marital settlement agreement does not give you a divorce. Instead, you must file appropriate court paperwork, typically including the marital settlement agreement as part of the paperwork you file. The exact process varies between courts, but some courts allow spouses to file together to expedite the divorce. Generally, a judge will review your divorce petition and marital settlement agreement, granting the divorce with the terms contained in the marital settlement agreement as long as they are not extremely unfair to either spouse or not in your child's best interests.
Photo Credits
Comstock Images/Comstock/Getty Images