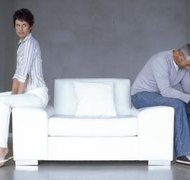 Generally, spouses can only get divorced by filing a petition with their local court to obtain a divorce decree. These procedures vary between states, and Idaho courts process divorces — called dissolutions of marriage — according to Idaho's laws, found in Title 32 of Idaho Statutes. To divorce in Idaho, you must meet certain residency requirements and file the proper legal paperwork.
Grounds
Idaho courts cannot grant a divorce until the plaintiff — the spouse initiating the action — shows there is at least one reason, or ground, for the divorce. In Idaho, the court can grant a divorce on fault-based grounds, such as adultery or extreme cruelty, or the court can use the no-fault ground of "irreconcilable differences." Fault grounds require the plaintiff to provide evidence that the grounds exist, such as testimony or documents. However, a divorce based on irreconcilable differences typically does not require proof.
Beginning the Process
Before you can file for divorce, you must have lived in Idaho for at least six consecutive weeks. Once you meet this residency requirement, you can begin your divorce process by filing a complaint for divorce in your local state district court. The complaint must include basic information about you, your spouse and your marriage, including full names, the date and place of your marriage and a listing of your property. If you have children, you'll need to list their information, too.
Forms
Along with your complaint, you must file several additional forms, some depending on your individual circumstances. For example, all filers must submit a Family Law Case Information Sheet, but only parents must submit a Child Support Worksheet. If you and your spouse agree about the terms of your divorce, you may file a marital settlement agreement for the court to approve. Your agreement may address issues such as property division, alimony and child custody, and the court may not require a hearing in your case if you and your spouse agree on all terms of the divorce.
Service
Once you file your complaint and required forms with the court, along with the appropriate filing fee, you must serve your spouse with a copy of the documents you filed. Official service is more complicated than just handing the documents to your spouse, because you must have a record of the service. If your spouse agrees to sign an Acknowledgement of Service stating he received the papers, you can give the documents to your spouse any way he will accept them. However, if he will not sign an Acknowledgment, you can have a sheriff or process server officially serve the documents. If you don't know where your spouse is, you may serve him by publishing notice according to court rules. Generally, an Idaho judge cannot grant your divorce until after 20 days have passed since serving the copies on your spouse, and your divorce is not final until your divorce decree is signed by the judge.