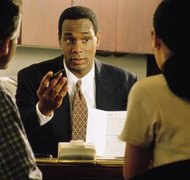 To incorporate a business in Santa Clarita, California, an individual, known as an incorporator, must file Articles of Incorporation with the California Secretary of State. Once the Articles of Incorporation are accepted by a state official, the entity can begin operating as a corporation. Online legal service and document providers can help you prepare and file your Articles of Incorporation.
Selecting a Type of Corporation
Before you can incorporate a business in California, you need to decide what type of corporation you want to form. In California, you can choose between a general stock corporation, close corporation, professional corporation, and nonprofit corporation. General stock corporations are the most common type of corporation and allow for an unlimited number of shareholders. Close corporations operate much like partnerships and limit the number of shareholders. Professional corporations are designed to render professional services, and include a law practice and medical group. Nonprofit corporations do not issue stock and are organized for religious, charitable, social, educational, or recreational purposes.
Accessing the Articles of Incorporation
You can download an Articles of Incorporation template form from the California Secretary of State website. Alternatively, you can request a paper form by calling 916-657-5448. Because you must include the name of your business on the Articles of Incorporation, you will need to check the availability of your business name before you file. To do this, you must submit a Name Availability Inquiry Letter, which is also available on the California Secretary of State website, to Secretary of State, Business Entities, P.O. Box 94244-2600, Sacramento, CA 94244-2600.
Required Information
In addition to the name of your corporation, the Articles of Incorporation must include the purpose of the corporation, the name and address of corporation's initial agent for service of process, the number of shares the corporation is authorized to issue, and, if applicable, details regarding classes or series of shares.
Amendments and Filing
You can amend the Articles of Incorporation to include more information than necessary. For example, this document can grant shareholders preemptive rights, such as the right to buy future issuance of stock -- to help avoid a reduction in their percentage of ownership -- or a provision limiting the personal liability of a director. When you complete the Articles of Incorporation, you should mail the paperwork with the required fee to Secretary of State, Business Entities, P.O. Box 94244-2600, Sacramento, CA 94244-2600.