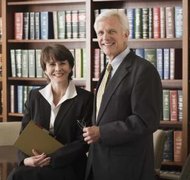 You can incorporate your business in Missouri by filing the articles of incorporation with the Missouri Secretary of State. Once your corporation is established, you can do business in any state by registering as a "foreign corporation" in that state. A corporation is treated as a separate legal entity for business and tax purposes.
Preliminary Steps
Before preparing the articles of incorporation, you must appoint a registered agent for the corporation. Although the registered agent is the representative of the corporation to whom all official correspondence is directed, he does not have to be a shareholder. The registered agent must have a street address in Missouri. You must also choose a corporate name that includes a suffix such as "Corporation," "Incorporated," "Limited," or an abbreviation thereof to notify the public of the corporation's limited liability status. The name must be distinct from the name of any other business entity authorized to do business in Missouri, including non-corporate entities such as partnerships and LLCs.
Articles of Incorporation
The articles of incorporation must include certain information. You must list the corporation's legal name and the name and street address of the registered agent. If the corporation will be authorized to issue more than 30,000 shares, or if the total nominal value of all authorized shares exceeds $30,000, you must list the number of authorized shares in each class and the nominal value, which is the expressed monetary value in a given year or years, of each share. You must state the duration of the corporation -- "perpetual" is acceptable -- the corporation's purpose, the date the corporation is to be formed, your name, and your business or residence address. Your signature confirms that all the information you supplied is correct.
Bylaws
Bylaws act as a corporate governance rule book. Although a Missouri corporation must prepare bylaws and keep them on file, they don't have to be filed with any government agency. The bylaws should provide for the election of directors, the appointment of officers, the transfer of shares, the division of authority between the directors and the shareholders, and other important matters. Bylaws must comply with Missouri corporate law; for example, they cannot authorize the directors to dissolve the corporation without shareholder approval. They also may not conflict with the articles of incorporation.
The Organizational Meeting
If you did not list any directors in the articles of incorporation, you may appoint one or more immediately after incorporation. The board of directors must then convene an organizational meeting, even if there is only one director. The directors must approve the bylaws, elect officers, authorize the corporation to open a corporate bank account and issue share certificates, and direct the corporation to undertake other initial activities such as applying for business licenses.