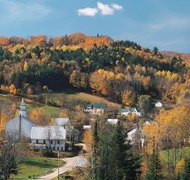 When you incorporate, you create a corporate entity that is legally separate from its individual members. In Vermont, most corporations are formed for the purpose of conducting business. Before you incorporate your business, it's important that you devise a business plan and evaluate whether your business idea is viable and worth your investment of time, energy and money. Then, you'll need to register your business name and file your organizing articles with the Vermont Secretary of State's office.
Step 1
Choose the type of corporation you want to form. In the state of Vermont, three types of corporations are recognized: general, professional and close. Consult with a local attorney if you need help deciding which type of corporation you should form.
Step 2
Select a name for your corporation. In the state of Vermont, the corporate name must include one of the suffixes "corporation," "incorporated," "company," "limited" or an abbreviation. Corporate names cannot include the word "cooperative" unless the business is filing as a Title 11 cooperative.
Step 3
Appoint a registered agent to receive legal notices on behalf of your corporation. Your corporation cannot act as its own registered agent, although you can appoint an employee, shareholder or director to serve in this capacity. If none of these individuals are willing, a resident of Vermont or another Vermont corporation can act as your registered agent.
Step 4
Determine who will act as the incorporators for your Vermont corporation. These are the individuals starting the corporation, and they must be over the age of 18. Incorporators do not have to be Vermont residents.
Step 5
Fill in the Articles of Incorporation online form at the Vermont Secretary of State website (see link in Resources). Print out the completed form and have the incorporator(s) sign the form.
Step 6
Mail two copies of your signed articles of incorporation with the current filing fee and a self-addressed envelope to the following address: Vermont Secretary of State Corporations Division 128 State Street Montpelier VT 05633-1104
Tips & Warnings
The Vermont Women's Business Center or the nonprofit organization SCORE can help you draft a business plan.

Once you have submitted your articles of incorporation, the typical turnaround time is between three and five working days.

The Vermont Secretary of State's corporations division is busiest between January and April of each year, and it may take longer to process your paperwork if you file during these months.

Applications must be mailed or hand-delivered. At the time of publication, no facility for submission of forms online or via fax is available.

Vermont corporations are required to obtain and maintain workers' compensation insurance. The corporation's officers may exclude themselves from this coverage requirement by filing Form 29 with the Vermont Department of Labor.
Photo Credits
Comstock/Comstock/Getty Images