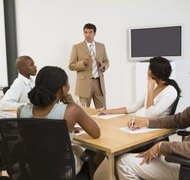 If you want to incorporate your business in Maryland, it's a fairly easy process. The Maryland government website describes its business laws as "flexible." However, you have to jump through plenty of hoops to meet all of the statutory requirements for a new business. Maryland also is innovative -- in 2010 it became the first state to allow a new corporate entity called a benefit corporation, which allows companies to "pursue socially responsible purposes in addition to profits."
Formation
All you need to do to incorporate in Maryland is file articles of incorporation with the State Department of Assessments and Taxation. You can use a standardized online form to file. The articles include the corporation's name, its general purpose, the names and addresses of each incorporator, the address of the principal place of business and the names of the corporation's directors.
Name
Your corporate name must include one of the following words or abbreviations -- company, corporation, incorporated or limited. If you don't want to use your precise corporate name for transacting business, you can obtain a trade name from SDAT. Trade names, known in other states as "doing business as names" or "fictitious names," are intended to distinguish your name from other business in Maryland. So you'll want to check the state databases to make sure no other company is already using the name you prefer.
Tax Issues
Maryland businesses are required to pay an annual tax based on the value of the property owned by the corporation, such as furniture, machinery and equipment. Although SDAT handles the valuation process, you pay the tax to the city or county where the business is located. You'll also want to obtain an employee identification number from the Internal Revenue Service office in Baltimore, which is necessary for payment of various federal taxes imposed on you and your employees. In addition, every Maryland corporation must file a state income tax return, using Form 500, even if the corporation has no income or is inactive.
Other Licenses
You might need a number of licenses and permits. A Maryland business license is required for retail and wholesale businesses. Contact the county clerk's office where your business is located to find out if your corporation requires a business license. You'll need an occupational or professional license for your company if it consists of people engaged in certain occupations, including architects, engineers, interior designers, plumbers, engineers and sports agents.