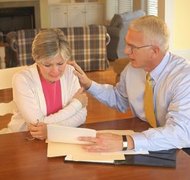 Understanding the taxes and rules associated with inheritance is an important part of proper estate planning. Indiana is one of the few states that currently imposes an inheritance tax, which, unlike an estate tax, requires each individual receiving property under a will or by statute to pay at a rate defined by the type of relationship shared with the decedent during his life. The state requires a specific return to be filed and imposes a penalty for filings not completed within the prescribed period.
Inheritance and Estate Tax
When a person dies and leaves property to a loved one, some states may impose inheritance or estate taxes on the transfer. Indiana is one of the few states with an inheritance tax. Estate taxes are imposed on the entire estate, generally at a single tax rate. On the other hand, inheritance tax is imposed on each transfer of assets, at varying tax rates to different classes of beneficiaries.
Act 293
In 2012, the Indiana legislature passed Act 293, which will abolish the state's inheritance tax. The state will slowly phase out the tax over a nine-year period, beginning in January 2013. The first stage of the legislation, which adds more relatives to "Class A," is effective retroactively as of January 1, 2012. Class A enjoys the lowest inheritance tax, and the highest exemption. Starting in 2012, spouses of the decedent's children, and spouses and widowers of stepchildren, are now included as Class A transferees. During the phase-out period, the statute allows for a tax credit to be subtracted from the amount of inheritance tax due. Each year, the percentage of the credit will increase.
Filing Inheritance Tax
Until inheritance tax is completely phased out, the personal representative for the deceased must file an inheritance tax return. Only one tax return is filed, even if several persons owe inheritance tax. The tax return must list all persons, as well as corporations and other organizations, that received inheritance, along with the relationship of each heir or legatee to the decedent. The rate of the inheritance tax is based on the relationship to the inheritor. Where there is no inheritance tax due, the estate must file the Affidavit of No Inheritance Tax Due, via Form IH-Exem.
Deadlines and Filing Location
The estate must file the inheritance tax return within nine months of the decedent's death in order to avoid penalties, except where the court determines there was an "unavoidable delay." The return should be filed in the probate court where the decedent lived, or where the estate is being administered. The tax payments are paid to the county treasurer in the county where the decedent lived, and should be paid within a year to avoid penalties.