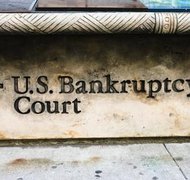 No one likes contemplating bankruptcy. Many people who carefully navigate through the process, however, often find that Chapter 13 may help them keep their home, restructure their car loan and get started on a new financial life. Although the instructions may seem complicated, the process may be easier than the anxiety of living with uncontrollable debt.
The Preliminaries
Chapter 13 might work for you, if you have regular monthly income. You will work with a court-appointed trustee and a certified credit counselor, who will help you develop a three- to five-year-repayment plan. While some debts, such as taxes and child support, must be paid in full, other debts can be partially forgiven. While a lawyer may be helpful, you may be able to handle the paperwork for this yourself.
Initial Steps
You must find your nearest bankruptcy court and determine which forms you need to file. You can find a list of bankruptcy courts and forms to file by using the USCourts web site. Filing Chapter 13 requires that you complete a Form B1, also known as a voluntary petition, along with a schedule of assets and liabilities, a schedule of current income and expenditures, a schedule of executory contracts and unexpired leases, and a statement of financial affairs. You can identify these forms, and any others that may be necessary, by looking at Form B200, which you can find by opening the section titled, "Part II - Procedural Forms and Instructions." While filing for bankruptcy means paying a court fee, this fee can be paid in installments if you file a form B3A, titled, "Application and Order to Pay Filing Fee in Installments." Don't forget to check the website of your local court, because it may have its own requirements.
Effect of Filing
As soon as you file the voluntary petition, the court will appoint a trustee to administer your case, as well as notify your creditors and tell them that they cannot initiate or continue collection efforts. This does not apply if your mortgage lender has already sold your house or if your car has been repossessed and sold. Known as an automatic stay, this restriction remains in effect until your case is officially discharged. If the case is dismissed, the automatic stay is lifted. While a creditor can request that the stay be lifted, judges usually honor such requests only if there is a good reason.
Debt-Relief Plan
If you did not include a repayment plan when you filed for bankruptcy protection, you must develop and file a repayment plan with the court, within 14 days of filing. Generally, you will develop this plan with the help of a certified credit counselor. The plan must show that you are using all your disposable income to pay down your debts within three to five years. Other than debts such as child care and taxes, the debts do not have to be fully paid down at the end of this period. If the plan is approved, you will pay the trustee directly – who will then pay the creditors. In this respect, Chapter 13 functions as debt consolidation.
Meeting of the Creditors
The trustee will usually schedule a meeting of the creditors between 21 and 50 days from when you originally filed for Chapter 13. The creditors, the trustee and you will attend. You will have to swear to answer the creditors' and trustee's questions honestly. The point of this meeting is to make sure that the creditors do not have any problems with your payment plan. Unsecured creditors must file their claims within 90 days of the creditor's meeting to get paid.
Confirmation Hearing
The judge holds a confirmation hearing within 45 days of the creditor's meeting. He will review the plan and any objections that the creditors may have. The court will either confirm your payment plan or send you back to the drawing board to develop a new plan. Alternatively, the case might get converted to a Chapter 7 bankruptcy. If the plan is confirmed, you must start making payments to the trustee as soon as possible.
Photo Credits
Jupiterimages/Photos.com/Getty Images