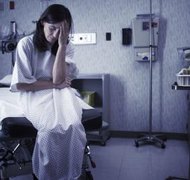 Life can change radically after a divorce and Alaska spouses may lose benefits that were based on their marital status, including health insurance. If one spouse receives health insurance through the other spouse's employer-provided plan, she cannot continue on that plan in the same manner once the divorce is final.
COBRA
Spouses who lose their eligibility for health insurance coverage because of a divorce can elect to have coverage under the terms of the Consolidated Omnibus Budget Reconciliation Act, or COBRA. COBRA allows a spouse to continue coverage with the same insurer after she loses coverage, but such coverage is often expensive. The spouse losing coverage must pay the entire premium for the coverage -- without any contributions from the employer. A spouse who wants COBRA coverage must elect this coverage within 60 days of the divorce being finalized and the coverage is only available for a maximum of 36 months.
Property and Alimony
Alaska courts consider each spouse's access to health insurance and the health of the spouses when dividing property and awarding alimony. If one spouse does not have access to insurance through her own employer and has ongoing medical issues, the court may award her a greater share of the couple's property to compensate for her medical costs. As an alternative, the court may award her a greater amount in alimony to provide for the anticipated medical costs she will face.
Divorce Terms
Spouses can enter into a marital settlement agreement, or an Alaska court can enter a divorce decree, that makes one spouse responsible for maintaining an individual health insurance plan for the other spouse. Alternatively, an agreement or decree can require one spouse to contribute a certain amount of money toward the ex-spouse's individual health insurance plan or COBRA payments. The agreement may specify the terms of such requirements, clearly indicating the amount the paying spouse must pay and for how long.
Children
Children may keep the same health insurance coverage after a divorce since they typically remain eligible under a parent's health plan as a dependent. Alaska courts are required by statute to include a medical support order in each child support order if health insurance is available for the child at a reasonable cost. The court can adjust child support payment amounts so that both parents share the cost of health insurance for the child.