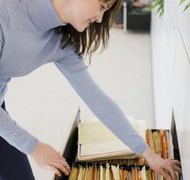 Keeping LLC files organized can require some work at first, but once you have your system in place, it gets easier to maintain. Store documents and records in folders, books or binders for a more seamless experience at tax time, during audits or when responding to general organizational demands. Some records are required by law and some just make life a lot easier. Your specific business may include some special file-keeping requirements, too.
Step 1
Compile your incorporation documents. Use a single folder to store a copy of the articles of incorporation you filed with the secretary of state and copies of any business certificates. Keep in mind you may have to display original certificates, depending on where you live. If you conduct business in another state, make another folder for the foreign registration paperwork, any foreign certificate copies and information on any hired registered agents. Put both folders into one larger folder and label it "Incorporation" or something similarly simple.
Step 2
Organize income files. Your income records help you see income sources and perform necessary business accounting. An online bank account is a readily available record, but maintain your own files, too. Keep an envelope of bank deposit slips. Keep a folder of your bank statements, including scanned copies of deposited checks. If you use a paper-tape cash register, save the tapes in shoeboxes, organized by month. Make an electronic document folder called "Invoices" and create subfolders by month or by customer to store invoice documents. You may want to download a third-party color-coding application to color-code which invoices are paid and which are outstanding.
Step 3
Keep receipt books for expenses and purchases. The IRS differentiates expenses as costs you incur to run your business and purchases as items you buy and sell. Use a book with blank pages for expenses. Staple receipts and invoices to pages as you go. You may want to use a highlighter to mark costs and dates for quick glimpses. If you buy online, print out receipts and include them in the book. Maintain a binder with invoice receipts for all purchases. You can use divider tabs in the binder to organize purchases by date, vendor or special categories that make sense for your business.
Step 4
Keep another blank-paged book for records of tax deductions. These may include travel, transportation, entertainment, meals and gift costs that the IRS qualifies as deductible. Staple receipts as you obtain them to the pages of the book.
Step 5
Make a folder with all IRS Forms W-4 for employees, organized alphabetically by last name. Label it "Forms W-4" or something similarly simple. Make another folder where you keep receipts for employee taxes, either in the form of electronic funds transfer confirmations or canceled checks. Keep these records for four years.
Step 6
Maintain any special records for your business. For example, health-care businesses are required to keep patient records of health history, treatments and recommendations in secure storage and to back up all records before moving them. Health-care businesses usually keep records organized by patient last name. Another example is gun dealers, who must keep background-check results and customer-identification records for each sale. These records may be more suited to chronological organization or electronic cross-reference by customer last name and transferred gun.
Things Needed
Folders
Labels
Envelopes
Shoeboxes
Blank-paged books
Stapler
Binders
Tips & Warnings
Use simple label names for files and folders.

File records as you go, instead of letting them pile up.

Feel free to use paper or electronic folders, depending on what suits your business.
Photo Credits
Jupiterimages/Creatas/Getty Images