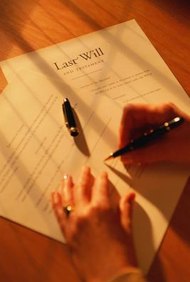 Your last will and testament is your opportunity to control the disposition of your assets after death. If you die without a will, the state disposes of your property -- generally to blood kin -- according to the rules of intestate succession. To make a valid will, write one according to your state's requirements. Some states provide will forms specific to those states, but there are other ways to get the appropriate forms.
Create an affordable will with LegalZoom
Attorney-prepared Wills
Estate attorneys can prepare personalized wills for clients. Generally, they tailor standard will language to suit your particular desires and circumstances. Call your state's Bar Association for a list of qualified estate lawyers in your area. The attorney will meet with you to obtain required personal information, including a description of your property and an outline of your bequests. The attorney will then draft a will incorporating your decisions, finalize it with you and oversee its execution. Many estate attorneys also provide advice about minimizing estate taxes.
Form Wills
Many testators with simple estates use form wills, which are preprinted wills with blanks to insert personal information. These are available online, in stationary stores and at law libraries. While some form wills may be appropriate for use in all states, state-specific wills generally require less research. For example, a form will specifically designed for California contains testamentary language mandated by state law as well as instructions for proper execution. Look for form wills prepared or approved by your state's Bar Association.
Statutory Wills
Some states make valid form wills available in the Probate Statutes. These wills, termed statutory wills, offer residents a free, reliable form will that meets all state requirements. Like other form wills, statutory wills do not suit every testator, and those with complex estates often prefer to retain an attorney. For others, statutory wills are a good choice. If your state offers a statutory will, obtain a copy from the probate court clerk or law librarian.
Self-prepared Wills
No state requires the use of preprinted language for a will. Once you determine minimum age and witness requirements for your state, you can type up your own testament. A will generally identifies the testator, names heirs and appoints an executor to administer the will through probate. States generally require that at least two adults witness the testator's signature.