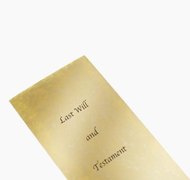 As you prepare your last will and testament, interpreting the legalese can feel like you're learning an entirely different language. A few definitions might help you maneuver through the process of preparing a will so you can feel secure that your intentions will be honored.
Last Will and Testament
Although they are often expressed together, the terms "will" and "testament" are synonymous. A last will and testament is a written document that specifies the distribution of a person's estate after death, and can include the gifting of property to specific people or organizations, creation of trusts, appointment of guardians for minor children and pets, instructions for the deceased's funeral and burial and expression of other terms and desires of the deceased. A last will and testament must be written, signed, dated and witnessed by two people to be considered legally valid.
Estate
With regard to a last will and testament, the estate refers to the deceased's property that is subject to distribution, and includes real estate, personal property and intangible assets.
Executor
An estate's executor is the person named in the will to carry out the deceased's wishes. The executor's duties can include protecting the estate's property, locating beneficiaries, distributing property according to the will, arranging payment of debts and paying estate taxes.
Beneficiary
When used in terms of a last will and testament, a beneficiary is a person or entity that the deceased names in the will to receive a specific gift or percentage of the estate. A beneficiary can be a person, charity or organization. The beneficiary can receive real estate, personal or intangible property, a direct payout, or proceeds from a life insurance policy or trust.
Codicil
A codicil is a written amendment that modifies the terms of the will. A codicil must reference the original will and be signed, witnessed and dated. A codicil can remove from, add to, or otherwise change the original will.
Probate
Probate refers to the legal process that occurs upon the death of a will's signatory, including proving that the will is valid and administering the estate. The will is first filed with the clerk of the appropriate court. The court in turn admits the will to probate upon determining its validity. At this stage, the distribution of assets occurs. Not all wills are submitted for probate. If an estate is small, or all property is held in joint tenancy, or if the will creates certain types of trusts, probate may be avoided, along with the costs of probating the will.