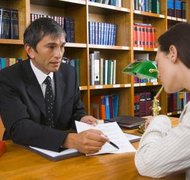 Although few individuals enjoy contemplating death, planning for this unavoidable occurrence allows you to provide clear instructions regarding the distribution of your assets after your death. Estate planning is the area of law that encompasses the practice of creating wills and trusts. Since laws vary between states, it may be best to consult an attorney whose interest and practice focuses on estate planning, particularly if you have a complicated estate.
Estate Planning
While many individuals create wills and living trusts at an early age, others die without leaving any written instructions for their beneficiaries and descendants. If you die intestate, meaning without a will, the court has the jurisdiction to dispose of your assets and choose guardians for your minor children, other dependents and any pets you own at the time of your death according to the state's intestacy laws. The decision whether to create a simple will or a detailed living trust depends on your individual circumstances and the complexity of your estate.
Trusts
Living trusts allow you to establish a plan for the management of assets both before and after death. You can change the provisions in your living trust while you are alive and mentally competent, but once you die, your living trust usually reverts to an irrevocable trust, meaning others cannot change the provisions of the trust. You may name yourself or someone else as the trustee, or manager, of your trust. Transferring all your assets into your trust can help your estate avoid the probate process after your death. Living trusts often contain pour-over wills, or wills that include provisions for any assets not placed into the trust.
Wills
While trusts work well for some individuals, others prefer basic wills to provide instructions regarding final wishes and inheritance provisions. Although trusts can be more expensive than wills to create, they provide a measure of privacy that wills do not. Wills must go through the probate process, making them part of the public record. However, for those not overly concerned with privacy, the AARP advises that wills are adequate for most people with modest estates.
Considerations
When creating your trust or will, consider who you want to carry out your final wishes. The individual you name as the executor or administrator of your will, or the trustee of your trust, has the responsibility of carrying out your final wishes and instructions. Choose an individual who respects your wishes, has the time and capability to perform the responsibilities, and is willing to manage your estate in your absence. Include detailed instructions for the division of all your assets as well as your choice of guardian for your children and pets. Update your will or living trust to reflect changes in your circumstances that may affect the provisions in your estate planning documents.