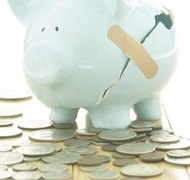 Because bankruptcy is governed by federal law, the process in Nevada is similar to the process used in other states. The only difference you might experience will likely be at the exemption phase of the proceedings. This is when you can protect certain property from being seized and liquidated to pay your creditors. Because Nevada requires you to use state exemptions, the property and amounts you can protect will differ from what's available to debtors in other states.
Bankruptcy Options
Once you've made the decision to file for bankruptcy, you must next decide which form of bankruptcy best fits your circumstances and end goals. In Nevada, debtors interested in personal bankruptcy protection typically file for either Chapter 7 or Chapter 13. Under Chapter 7 bankruptcy, you must give up your nonexempt assets, which are then liquidated and used to pay your creditors. Any remaining unpaid debts are discharged and your liability for them extinguished. In contrast, Chapter 13 bankruptcy does not require you to forfeit any assets. Instead, you enter into a repayment plan that lasts three to five years. As with Chapter 7, any remaining unpaid debts are discharged along with your liability.
Credit Counseling & Automatic Stay
Prior to filing your bankruptcy petition, you must attend credit counseling. The U.S. Bankruptcy Code requires all debtors to complete a credit counseling course within 180 days of filing for bankruptcy. Upon completion, you may file your bankruptcy petition, along with your Certificate of Credit Counseling, with the U.S. Bankruptcy Court for the District of Nevada, which has two locations: Reno and Las Vegas. Once your bankruptcy case is opened, an automatic stay goes into effect. This stay prohibits creditors from engaging in collection activity against you while the bankruptcy proceedings are underway.
Exemptions
In both Chapter 7 and Chapter 13, a bankruptcy estate is created once your bankruptcy case begins. If you filed for Chapter 7, the bankruptcy trustee assigned to your case will seize your nonexempt assets and place them in your bankruptcy estate in preparation for liquidation. To protect property from seizure, you must find an exemption for it. Although both federal and state exemptions are available in some states, Nevada residents may only use state exemptions. Nevada's homestead exemption is a popular one, which allows residents to exempt up to $550,000 of their home's value. If you filed for Chapter 13, the property in your bankruptcy estate is not seized and liquidated like in Chapter 7 cases. Instead, the total value of this property is used to calculate the terms of your repayment plan. This is because creditors must receive the same amount through the plan that they would've received had the property been liquidated in a Chapter 7 proceeding. Therefore, the more property you can exempt from your bankruptcy estate, the smaller your monthly payments will be.
Discharge
Once your bankruptcy case is successfully completed, all eligible debt obligations will be discharged and you will no longer be legally responsible for them. The timing of your discharge is dependent on the type of bankruptcy you file. With Chapter 7, discharge happens relatively quickly, taking place approximately three to six months after filing. A Chapter 13 discharge, on the other hand, is contingent on the completion of your repayment plan; therefore, it usually occurs several years after filing for bankruptcy. If you do not receive a discharge due to your case being dismissed, your automatic stay will immediately cease and you will once again be liable for your debts, unless you are converting your case from a Chapter 7 to a Chapter 13 or vice versa.