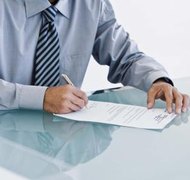 Although you may not like contemplating death, preparing a will allows you to provide instructions regarding your personal wishes and the division of your assets. Your will allows you to designate your belongings to the individuals and charities you choose. When written and executed properly, your will provides a legally binding document for the court and your beneficiaries.
Wills
Two out of five Americans 45 years of age and older do not have wills, according to the AARP. Dying intestate, or without a will, allows your state laws to govern the distribution of your property, as well as the guardianship of your minor children. Revocable living trusts often contain pour-over wills -- wills that provide for any items remaining in your name at the time of your death. Wills must meet certain requirements set forth and governed by state legislation such as providing the signatures of your witnesses.
Inclusions
Your will may include a variety of declarations, depending on your individual situation. If you have children, you can designate the individual you want to serve as their guardian. In addition to listing whom you want to serve as executor of your estate, your will can include specific allocations for personal items, as well as real estate, automobiles and bank accounts. Many people choose to provide instructions for family heirlooms, as a way of avoiding family conflicts over items that may have sentimental value.
Considerations
The National Cancer Institute recommends consulting an attorney when drawing up your will so the directives you provide will be legally binding. Make sure you sign your will in front of witnesses, make copies and place the original in a safe location. Inform your executor of the location of your will so your executor can readily locate it upon your death. You can change your will by executing an entirely new will or adding a codicil to your existing will. Later amendments also require signatures of you and your witnesses.
Exclusions
While wills allow you the ability to dispose of various assets, certain items may not apply. According to the American Bar Association, real estate that you own with rights of survivorship will automatically pass to the surviving owner, while insurance policies and individual retirement accounts that list beneficiaries go directly to the named individuals.