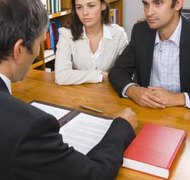 A common law marriage is a union formed by two people without the involvement of governmental or church authorities. Some states continue to recognize common law marriages but many do not. A common-law couple wishing to legally separate my have better luck if their union occurred in a state where common-law marriages are legal.
Legal Separation
Legal separation is a procedure in which a court declares two spouses separated and enters a judgment resolving all property, support and custody issues. It is often used as a dissolution-alternative by couples where religion or practical considerations, like the availability of health insurance, preclude the possibility of divorce.
Common Law Separation
Generally, only couples whose marriage is legally recognized by a state qualify to file for legal separation in that state. In states where common law marriages are legal, like Texas or Colorado, partners can file for legal separation like any other married couple.
Common Law Options
If a common law marriage was legal in the state in which the union occurred, some states that do not recognize common law marriages still permit the couple to file for separation in their courts. However, if the common law couple was united in a state that does not recognize common law marriage, the couple generally cannot file for legal separation anywhere.