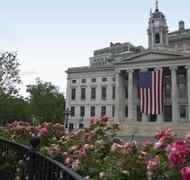 A will is a written document describing a person's intentions for his property after his death. In most states, a probate court judge determines whether a will is legal after the testator's demise. Generally, a will is valid if the testator was of legal age, intended to write a will, included devises and signed the will according to required procedures. The judge also rules on questions raised in a will contest. Valid wills remain in probate court through property distribution, and are public information.
Step 1
Ascertain the full name, date of death and most recent address of the deceased. Call the probate court in the county where the deceased resided and ask about probate search procedures. Some courts provide a dedicated telephone line with probate information, while others maintain a website. Many jurisdictions still require a personal visit to the courthouse. If the court offers an easy manner to locate the probate file number, use it. Alternatively, obtain the street address of the probate court.
Step 2
Go to the courthouse and ask for the clerk of the probate court. In some courts, one office handles all civil cases, but in other jurisdictions, a separate clerk's office handles family law matters, including probate. Ask the appropriate clerk for the deceased's probate file. Provide the probate file number, if you have it, or the name and date of death. The clerk will locate the file and instruct you where to review it.
Step 3
Start your search from the beginning of the file. The Petition for Probate is among the early documents, and generally the executor files the will at the same time. Continue reviewing the file to see whether the executor established the will's execution to the court's satisfaction. Read any court rulings on will objections.
Tips & Warnings
Obtain a copy of the death certificate at the bureau of vital statistics if you have trouble finding a probate file.

If the court determines that the will is invalid, the executor produces the next latest will. If no other will exists, the testator's property passes to blood kin under the intestate laws.

Do not try to take the will or any other document from the court file. Stealing court property is a serious offense. Instead, ask the clerk to make copies of important documents for you. Most courts charge a small fee for this service.
Photo Credits
Jupiterimages/Comstock/Getty Images