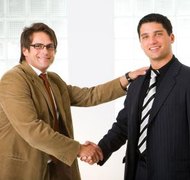 Related Articles
Determining which type of business entity to operate under plays an important role in establishing your business identity. Since individual states regulate the laws governing business classifications, it is important to check with an attorney who specializes in business law. A licensed attorney can help you determine whether to form a limited liability company, commonly referred to as an LLC, or some other business type.
Members
LLC owners are also the members of the corporation. Some states allow single-member LLCs, although corporations can also form LLCs. LLC members often choose this business structure to limit their personal liability while allowing management flexibility. While there are usually no restriction on the number of members allowed in an LLC, some types of businesses -- such as banks, insurance companies and nonprofit organizations -- cannot form LLCs. Common rules that members must follow when creating this business structure include choosing a business name that indicates its LLC structure, and formally registering the business with the state.
Organization
One of the initial steps in forming an LLC is to complete and file a document known as the Articles of Incorporation. This document normally includes the business name, address and names of members. Your state's LLC office can provide this form. Other important, though not always mandatory, steps in organizing your LLC include creating an operating agreement that provides rules and regulations for the business, and obtaining any necessary licenses and permits specific to your business.
Advantages
LLCs provide limited liability for their members, which means it generally protects members' personal assets in cases of lawsuits and debts. This is similar to the protection provided to shareholders of large corporations. LLCs also require less record keeping than corporations and impose fewer restrictions on profit-sharing aspects; members can also make contributions and distributions without strict constraints.
Disadvantages
One drawback to forming an LLC is that when a member leaves, the remaining members may need to dissolve the LLC, rather than continuing business as usual. This involves completing the legal requirements imposed by the state to close out the business. The IRS considers LLC members to be self-employed individuals who must file self-employment taxes that cover contributions to Medicare and Social Security.