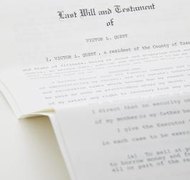 As medical science continues to move forward and new lifesaving techniques are discovered every day, we are forced to confront the possibility that some of these techniques may be necessary for our own survival at some point in the future. Everyone has the ability to specify which of these techniques may be used should the need arise. There are some options, but you may want to consider creating an "advanced directive." An advanced directive is a document that expresses your wishes on how your medical treatments should be conducted.
Basics of the Living Will
Of the various advanced directives out there, the living will is the most popular and the most effective. The living will allows you to be specific with your doctor regarding your care should you be unable to speak for yourself. The living will works to clarify your decisions on what procedures are acceptable and which procedures are not. These decisions can become extremely important later. If a family member objects to your wishes, the living will protects your medical plan as it is drafted well in advance of any medical calamity. The living will also protects you should a "terminal condition" put your life in danger.
What Happens if I Can't Speak for Myself?
A living will tells your doctor whether you want to refuse or continue certain medical treatments should you succumb to a terminal condition. A terminal condition means you are unable to act on your own behalf where there is no reasonable probability of recovery. This condition can be brought on by a severe injury or terminal illness. The living will allows you to direct the course of any procedures that may prolong your life. It is important to note, however that a living will cannot refuse procedures to provide comfort or alleviate pain.
Requirements of a Living Will
Should you want to exercise some control over your future medical destiny with a living will, a properly drafted living will is important. First you should decide what is important to you personally. Many people have different requirements given their religious background, personal feelings or philosophies. After you have made some concrete decisions, you should consult an attorney or legal document website to help you to word your wishes properly. Generally, living will has to contain a statement that shows you have a voluntary desire not to prolong your life in the event of a terminal condition. In addition, it should also state clearly each procedure and your objections or support of them and their triggering conditions. Finally, to ensure that this document is taken seriously by the court you should include witness signatures and be notarized.
Specific Details that Make the Living Will Enforceable
If you want to forbid the use of a specific kind of medical treatment or to direct your doctor to withhold food and water, if supplied via tubes or other medical devices, you must be clear. It is important that you address all possible problems and needs now while at the same time not interfering with your doctor's ability to provide proper care later. In addition, the clauses of a living will must be updated to reflect any new medical concerns which may arise after the first will is drafted.
Photo Credits
Jupiterimages/liquidlibrary/Getty Images