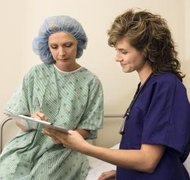 Living wills allow people to control the type of medical care or procedures they receive, even if they are unconscious or otherwise unable to communicate with their doctor. Usually associated with end-of-life decisions such as artificial resuscitation and hydration, tube feeding and artificial respiration, living wills can be used to express any concerns or preferences you may have about the medical care you receive. Living wills must be in writing and signed by the patient; other formalities vary depending upon the state in which the document is signed.
Function
Health care directives are written documents that allow you to express your health care decisions, or designate another person to make them for you, in the event you are too sick or injured to communicate your wishes to your doctors. The document recognized in all states for this purpose is a living will. Originally thought of as a means for a terminally ill person to prevent being kept alive in a vegetative state, living wills have become a routine part of health care planning for many people, of any age and condition, who are concerned about the types of procedures or medications administered to them when they are seriously ill or injured.
Format and Formalities
All states allow living wills to be used as long as they are signed and witnessed, but the majority of states do not have laws designating an official form or format for a living will. Any written expression of your wishes about medical care and treatment will be accepted as a living will, as long as you sign the document and the number of witnesses required by the law in your state also sign. The recommended form to be used in your state can be obtained through an online legal document provider along with the instructions for filling it out. Even in those states where an official form for a living will is recommended, you may alter the form to make it reflect your personal wishes.
Legal Effect on Doctors
Regardless of the form or formalities you follow in writing and signing your living will, your doctor may refuse to follow its directions if she believes they are medically unsound or go against her conscience. This is also true if your directions are contrary to the policies of the hospital or medical facility where you are being treated. In such a situation, your doctor or medical facility may refuse treatment but must arrange for the transfer of your care to another doctor or facility.
Discussion With Your Doctor
The most important thing you should be concerned about when writing your living will is to make your wishes known. A clear, carefully developed expression of your wishes and the reasons for them is the goal of your living will. Discussing your living will and your wishes about your medical care with your doctor and family before illness strikes may help to avoid misunderstandings later on.