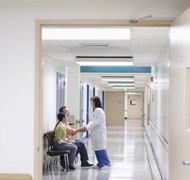 While not pleasant to think about, an end-of-life situation in which you cannot communicate your health care preferences to those around you is a possibility. Fortunately, there are documents available that can do the communicating for you. In Michigan, these documents are called advance directives. Two types of advance directives are living wills and do-not-resuscitate directives.
Living Will
A living will is a document that gives health care providers your instructions regarding end-of-life care. In fact, a living will does not go into effect until you are diagnosed as terminally ill and you are unable to communicate with your health care providers. If you are creating a living will, keep in mind that Michigan law does not specifically recognize living wills. The Michigan Supreme Court, however, indicated they may be binding in the state when they decided Martin v Martin in 1995.
DNR Declarations
A do-not-resuscitate declaration, or DNR, tells anyone involved with your health care that you do not want to be resuscitated to prolong your life if your breathing or heartbeat stops. Unlike living wills, Michigan law specifically recognizes DNR declarations in all settings except hospitals and nursing homes. Under Michigan law, hospitals and nursing homes are allowed to set their own policies regarding DNRs. Therefore, you should check with the hospital to see if its policies honor DNRs or if you can have the instructions included in your chart.
Execution Requirements
Michigan law dictates how a DNR must be executed in order to be valid. The person executing the DNR must be at least 18 years of age. Two witnesses must sign the document along with the person's attending physician. At least one witness must be someone other than a spouse, parent, child, grandchild or sibling. An attending physician is not necessary if the person's religion prohibits medical care. Since living wills are not specifically recognized under Michigan law, there are no specific execution requirements.
Revoking a Living Will or DNR
Michigan law provides a way to revoke a living will or DNR if the person who originally executed it no longer wishes it to be in effect. Since living wills are not specifically recognized by Michigan law, communicating the revocation in any way is sufficient. You may also revoke a DNR in any manner you choose; however, if the revocation is not placed in writing, you must have someone else observe the revocation and attest to it in a signed writing.