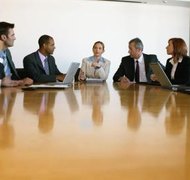 An LLC – limited liability company – is formed under state laws and provides the advantage of limited liability for its members. As an LLC develops and expands, its members and directors may decide to form separate divisions, for example to serve different geographical regions or to concentrate on diverse products. Members can add a separate division to an LLC by amending the articles of organization and/or operating agreement.
Articles of Organization
Every LLC must sign and file articles of organization with the relevant authorities, usually the secretary of state, in the state where it is organized. Articles of organization are often brief and contain only the names of the directors, the share capital and the registered office details. Others, especially for larger LLCs, may be more complex and set out rules relating to the creation of divisions within the company.
Operating Agreement
The members of LLCs often sign an operating agreement to formalize the internal management and operation of the company. Operating agreements typically set out directors' obligations, shareholders' rights and procedures in the event of dispute. If an LLC forms a new division, it should amend its operating agreement to clarify the relationship between the divisions and specify in detail the rights and obligations of each division. Specific issues to be considered include the allocation of profits, the organization of meetings and the procedure in the event of dissolution.
Name
A new LLC division typically operates under a different name from the original LLC. State laws govern the use of names by companies and most require the new division to register the trade name or "doing business as" name with the secretary of state. This name should not be the same as, or similar to, that of any other business entity registered in the state.
Structuring the Division
The LLC must consider how to structure the new division. It will require the appointment of managers who will have the authority to enter into contracts on behalf of the new division and make business decisions. The LLC should consider whether or not to impose restrictions on this authority, for example, by requiring approval for any contracts over a certain financial value.
Series LLC
Some states allow LLCs to form multiple entities, often known as "cells", each of which operates as a separate business entity. For example, Section 18-215 of the Delware Limited Liability Company Act sets out the state's laws for series LLCs. If all state operation requirements are carried out properly for the duration of the life of each "cell," then each unit is liable only for its own debts and does not take responsibility for the debts of any other entity in the series. A series LLC must specify in its articles of organization that it intends to operate as such.