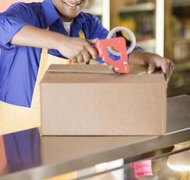 If you want to start a small business, one of your most important decisions is the legal structure of the new company. A limited liability company is a business that is owned and operated by members who are protected from personal liability for the company's debts. The net income from the business is declared on the members' personal federal income tax returns; the business itself pays no federal taxes. State laws and regulations govern the formation of new LLCs.
Step 1
Select an available name. You can do a name search through the secretary of state's office in the state where you will operate. The name, in most states, must end with the abbreviation LLC or limited liability company. It cannot imitate the name of another company, violate a trademark or include prohibited words, which vary among the states (the word "incorporated," for example, is usually banned for LLCs). The name can usually be reserved for use while you draw up other necessary paperwork and wait for your operating license to be issued.
Step 2
File articles of organization with the secretary of state. This document gives the name, business address, the purpose of the business and the names of all members. The articles of organization must be accompanied by a filing fee, which varies among the states but averages around $200. The state may also require that the articles state the responsibilities of the members and details about the operation of the business.
Step 3
Write up an operating agreement, which in most states must also be filed with the state government. The operating agreement gives the basic structure of the business, and how its income will be divided among the owner/members.
Step 4
Designate a registered agent, who is the individual or company authorized to accept legal process and other documents on behalf of your company. All states require businesses to have a valid registered agent, and without one, your company will be subject to a forced dissolution by the state.
Step 5
Obtain a business license for your field of operations. A hotel business, for example, must obtain the necessary business license issued by the state, which may require regular inspections and other filings to keep the license current and valid. You may need to publish a legal notice of the LLC, which can be done in a newspaper or other printed journal.
Tips & Warnings
If your company has employees, or more than one member, you may have to file a federal employer identification number as well.

Several websites offer complete LLC kits, with forms tailored to the laws of your state.

The business license issued by your state may carry a limited span of time in which it is valid. Make sure to renew the license when required.

Always check the tax laws of your state before deciding on an LLC as your business structure. Some states tax LLCs as corporations, thus negating some of the benefits of limited liability companies.
Photo Credits
Jupiterimages/Brand X Pictures/Getty Images