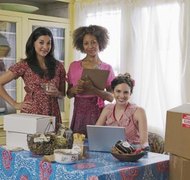 Although corporations have been around for years, LLCs are a relatively new business structure, having been commonly used only since the late 1980s to mid-'90s. LLCs are fashioned after partnerships but afford the members a level of individual liability protection that partners do not have. Individual partners may be held liable for debts of a partnership whereas members of an LLC usually are not. If you currently operate an unincorporated business, you may choose to organize as an LLC to take advantage of this liability protection.
Step 1
Visit your secretary of state's office online and search for your LLC name to make sure it is available for use. If you have been operating under an existing business name, you may choose to use that same name followed by the initials "LLC." Most states require that you have an LLC name separate and distinct from any other business name in the state, followed by the "LLC" or "limited liability company" designation. If you are not immediately ready to file your formation paperwork yet already have decided on a name, your state may allow you to file a name reservation online, allowing you to reserve your name for a specified period of time during which no one else may use the same name.
Step 2
Acquire your articles of organization or certificate of formation documents from the secretary of state's office. Many states allow you to complete and file the forms online and pay your fees by credit card. In the event your state doesn't have online filing capabilities or you prefer not to file online, obtain the forms by contacting the secretary of state's office, complete them, and file by mail or in person. Different states may have different requirements for information to be included in your articles of organization. Required information may include the names and addresses of all members, names and addresses of managers of the LLC, and designation of a registered agent along with his contact information.
Step 3
Prepare or have an attorney prepare the LLC operating agreement, which will govern the day-to-day operations of the business. Operating agreements are not always required but may be considered crucial to an LLC with several unrelated members involved in a complex business venture. Often, an LLC formed with two or more family members will not have an operating agreement, and rules for governing the business will be made verbally.
Tips & Warnings
Some states may require filing at the local probate level as opposed to the state level. Information on filing location may be acquired from your secretary of state's office.

Contact a corporate attorney in your state to assist, if necessary, and answer any legal questions regarding formation of an LLC.

Filing fees are ordinarily posted on your secretary of state's website.
Photo Credits
Jupiterimages/Brand X Pictures/Getty Images