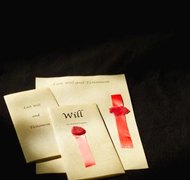 If you live in Maine and you'd like to make changes to your will, you may execute a codicil. Codicils are separate documents that amend a will's provisions; they require all the same formalities as Maine requires of a will. In other words, a codicil requires testamentary capacity, your signature and the signatures of two witnesses. Generally, codicils are only suitable for minor changes. If you're making major changes, you may consider executing a new will. LegalZoom has Maine will forms available if you decide to draft a new will.
Step 1
Fill out the codicil form. Include your name, county and state, and note that you intend the document to be a codicil to your will.
Step 2
State exactly which of your will's provisions you'd like to amend. Be as specific as possible; refer to each section number and the provision you are changing.
Step 3
Include the date of your original will, and that you intend for its provisions to remain the same, except for the provisions amended by your codicil.
Step 4
Gather two witnesses. Sign and date your codicil in front of both witnesses, then have them sign and date the codicil immediately after you.
Step 5
Keep your codicil with your will. You may wish to attach your codicil to your will to prevent it from being separated from your will or lost.
Things Needed
Codicil form that complies with Maine law
Witnesses
Tips & Warnings
Maine allows "testators," or will makers, to use a separate form for bequests of personal property. Under Maine law, a "Separate Writing" has legal effect when signed and dated by the testator.

If you'd like to change your will, and the changes involve merely the addition of personal property -- such as family heirlooms, jewelry and cars -- you may instead make a separate writing detailing which items you're giving to whom. If you do decide to make a separate writing, keep it with your will.

If you intend to make major changes -- such as striking out several provisions -- you may consider executing a new will. Generally, wills begin by stating the intent to revoke all prior wills. Revoking a prior will by executing a new will may be advisable if you want to make numerous or significant changes.
Photo Credits
Stockbyte/Stockbyte/Getty Images