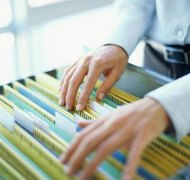 Parents routinely make inheritance devises to their children through wills. In Maryland, a will must be signed by a competent maker in front of two disinterested, adult witnesses. If no will exists, Maryland law first divides a man's estate between his surviving children and spouse. Brothers and sisters may wish to search Maryland's public probate records to personally review and retrieve their father's will. Maryland has a safe-keeping program for filing wills that can be accessed by the public only after the maker dies.
Maryland Register of Wills
A person searching for a will in Maryland may visit the register of wills in the county where the decedent resided. No special rules for requesting a copy of a decedent's will applies to siblings. Any member of the public may search for a decedent's will. Maryland law does not require wills to be filed. However, many people file wills because this helps ensure their last wishes are carried out.
Formating and Fees
Different research techniques must be employed depending on how wills are formatted and stored. Some Maryland register of wills offices use downloadable computer formats. Others house paper copies, microfilm, microfiche or docket books which require searching by hand. Storage and research requirements depend on the technology of individual county offices. A small fee is typically charged for the copying of a will.
County Search Engines
Some county offices in Maryland provide for locating wills on their official websites. Certain county offices only have probate documents online, such as wills, available as far back as 1997. Search engines, downloadable forms and fee payments vary among counties.
State Search Engine
Maryland's state website for the Office of the Register of Wills offers a search engine and downloadable forms for will searches. The estate search tab allows a party to enter a decedent's name and other qualifying information such as the county in which he resided. If an open or closed probate estate is found, wills can be located and obtained online for a nominal fee.