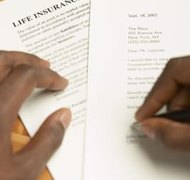 Until recent years, the goal when planning for disposition of a qualified insurance policy upon death was to remove the proceeds of the policy from the decedent's taxable estate. To accomplish this, an irrevocable life insurance trust was created by the policy owner. As of 2012, the estate tax exclusion amount is considerably higher, minimizing the need for complex tax planning by most people. This allows a policyholder to instead name a charitable organization as the beneficiary of a qualified life insurance policy.
Step 1
Contact the charitable organization to determine the legal name of that entity. The charity may operate under a "doing business as" or DBA name other the official name in the articles of incorporation. Verifying the organization's legal name will eliminate any confusion that could arise when you pass away and the proceeds of your qualified life insurance policy are distributed to the charity.
Step 2
Contact your life insurance agent and request the forms necessary to name a beneficiary of your policy.
Step 3
Fill out the information on the beneficiary designation forms provided by your life insurance company and specify the legal name of the charity as the beneficiary of your policy.
Step 4
Return the completed paperwork to your insurance company.
Things Needed
Beneficiary designation forms from insurance company
Photo Credits
Hemera Technologies/AbleStock.com/Getty Images